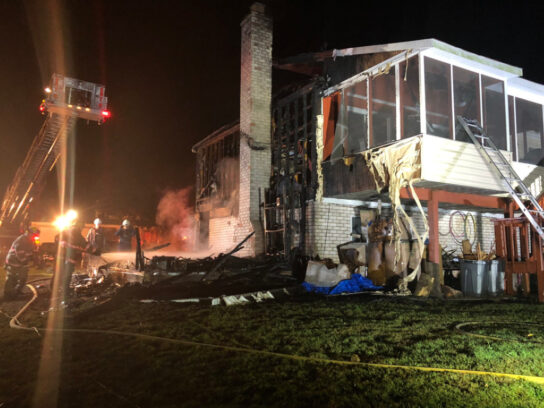 Several people were injured Tuesday morning in a 2 a.m. fire at two houses in the Olney Village neighborhood in the Brookeville area.
Pete Piringer, the spokesperson for Montgomery County Fire and Rescue Services, said 70 firefighters were on scene responding to the emergency, and one of the firefighters has nonlife-threatening injuries. The firefighter is suspected of inhailing smoke, so he was taken to a nearby hospital.
The fire originated in the garage of one of the houses located on the 19000 block of Dubarry Drive. Piringer said the exact cause of the fire is under investigation but officials suspect it's from "oily rags" that spontaneously combusted.
Update (9/10 ~2a) 19528/32 Dubarry Dr, Olney Village; Cause, under investigation, likely oily rags, spontaneous combustion; Area of Origin, attached garage; Total Damage ~$1M, incl collateral damage nextdoor; several injuries, 1FF NLT, other civilians evaluated only; 70 FFs OS pic.twitter.com/f7c8UJ227y

— Pete Piringer (@mcfrsPIO) September 10, 2019
Firefighters were notifed about the fire at around 1:50 a.m. via smoke alarms, which also woke up sleeping residents who were able to get out of their homes.
Update (initial dispatch 1:50a 9/10) 19528 Dubarry Dr, w/ collateral damage 19532 Dubarry Dr, 2 families displaced, @MCFRS_EMIHS w/ 3 civ evaluated NLT & treated OS, 1 FF transported w/ NLT, ~70 FFs OS, significant damage, SMOKE ALARMS ALERTED sleeping residents, they got out pic.twitter.com/PkcWDXrhXu

— Pete Piringer (@mcfrsPIO) September 10, 2019
Piringer said three civilians were evaluated on scene and were treated for nonlife-threatening injuries.
Update – Dubarry Dr, Olney Village, House Fire, fire appears to have originated in garage & burned into house, also collateral damage to house next-door, 1FF injury, 3 civ being evaluated NLT pic.twitter.com/iUHSrrH5S7

— Pete Piringer (@mcfrsPIO) September 10, 2019
The estimated damage to the homes is estimated to be around $1 million, Piringer said.