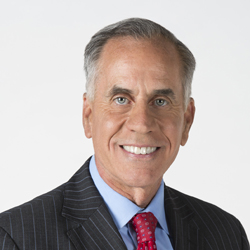 ESPN baseball analyst Tim Kurkjian will be inducted, along with five others, into the Montgomery County Sports Hall of Fame (MCSHF) on Sunday at 3 p.m. at the Silver Spring Civic Building.
It's not the first time Kurkjian has been recognized for his work. On Dec. 7, 2021, he received a call to inform him that he had been named the recipient of the Baseball Writers' Association of America (BBWAA) Career Excellence Award.
Kurkjian's career took him from Walter Johnson High School in Bethesda to the University of Maryland to the Montgomery Journal, Dallas Morning News, the Baltimore Sun, Sports Illustrated and ESPN for the last 24 years where he has become one of the best and most trusted baseball analysts on television..
On the eve of receiving the prestigious award in July, Kurkjian talked to Joe Yasharoff about his career, what the award means to him and growing up in Montgomery County on the MoCo's Most Famous podcast.
Three-time NBA all-star, former University of Maryland and Blair High School star Steve Francis a. They will be inducted along with legendary Landon lacrosse coach Rob Bordley, 12-time All-Met track star at Walter Johnson Sally Glynn Hauser, Rockville native Clarence "Pint" Isreal (posthumously), a member of the 1946 Negro League World Series champion Newark Eagles  and 12-year major league pitcher and two-sport star at Blair, Sonny Jackson.
Previous Hall of Fame inductees include swimmer Katie Ledecky, gymnast Dominique Dawes and high school football coach Bob Milloy.
Twelve Montgomery County High School Athlete of the Week recipients will also be recognized. The award is a partnership between the MCSHF and Montgomery Community Media (MCM).
Tickets for the event are free, You can register at mcshf.org or get tickets at the door.