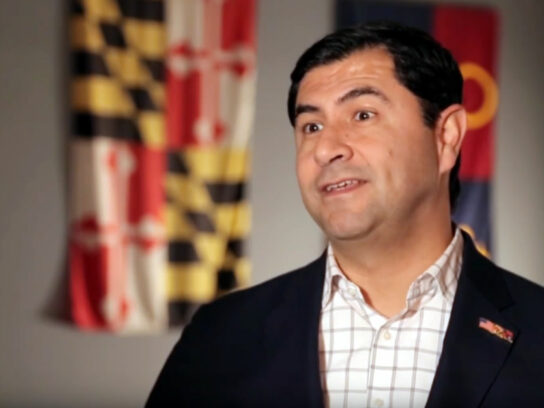 During a Friday afternoon interview on The Politics Hour with Kojo Nnamdi on radio station WAMU, Montgomery Council Vice President Gabe Albornoz spoke of his support to mandate that all county employees get vaccinated. He also explained his support of a Silver Spring Business District and predicted that the University of Maryland would triumph in its big football game against Iowa Friday night.
"We finally have a quarterback," he said referring to the Terps' junior star Taulia Tagolvailoa.
Albornoz said he supported mandating vaccinations for county employees, except for those with a medical exemption but not for those claiming a religious exemption.
"We've gone as far as we can go" in reaching out to those who have not be vaccinated, he said. He labeled those still unvaccinated as having a combination of fear, stubbornness, a particular political ideology or are "just plain misinformed."
While he said he understands why County Executive Marc Elrich is surveying departments to see if staffing would be adequate if employees were given the choice of being vaccinated or losing their jobs, he questioned whether the same staffing problem could occur if most of the firefighters at a particular station tested positive for COVID-19.
Of the county's 9,500 employees – which does not include Montgomery County Public School employees who already must be vaccinated – about 77% have received at least one dose, Albornoz said. Of the remaining employees, some don't want it and others have not responded.
According to Albornoz, the union representing county workers opposes a vaccine mandate. However, he has heard from many employees who told him they are frustrated with colleagues not willing to be vaccinated, he said during the radio interview.
Two county council committees will review details of a possible mandate before recommending it, or not, to the full council. If enacted, Albornoz said it probably would go into effect by the end of this year.
"We know the rhythm of this virus. It will inevitably go up" as the cold weather settles in, he said.
Concerning the council's recent vote to override Elrich's veto of a Silver Spring Business District, Albornoz said, "We have a problem. We need to stop the bleeding" in downtown Silver Spring in which 28% of commercial real estate is vacant and many retail stores are as well, he said, also pointing to a rising crime rate.
"What is clear is we need to invest in Silver Spring."
Albornoz explained that the funds allocated will be used mainly for marketing. Also, he said the employees who don red coats and clean up the area would remain under the county executive branch and still be represented by the same union.
"The pros outweigh the cons," he said of the Silver Spring Business District. "Everyone agrees we cannot do nothing. That is not acceptable either."
Albornoz, who has announced he will run for re-election, is expected to be council president in December. Therefore, he said, he will not be endorsing anyone for county executive, calling that inappropriate.
Listen to Albornoz's comments here.