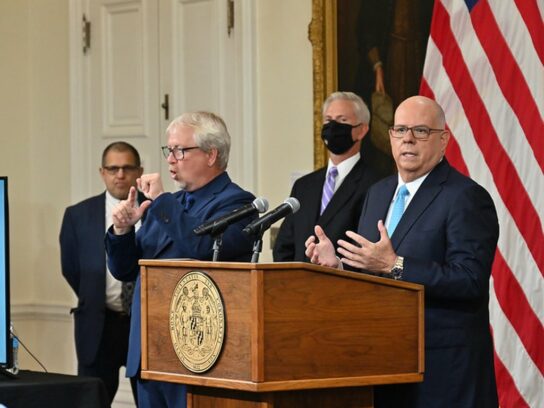 Gov. Larry Hogan clarified COVID-19 booster shot eligibility in Maryland as he said the federal government has been offering confusing guidance.
"There has been limited, confusing and contradictory guidance from the federal government," Hogan said during a press conference Thursday. In spite of that, he said, state officials have spent months building infrastructure for a statewide booster-shot operation.
"If you're confused about boosters, you're not alone," he said. "With so much conflicting guidance out there, I wanted to take a moment today to simply give Marylanders the current status."
Those who received the Pfizer vaccine can get a booster shot as soon as six months after their second dose if they are ages 65+, or if they are 18+ and have underlying health conditions or work/live in high-risk settings. Moderna recipients who are immunocompromised can also receive boosters, however there is no approval or guidance for the wider population.
Hogan said there is still no federal guidance about booster shots for the Johnson & Johnson vaccine. He said he knows it is incredibly frustrating and that the state continues to press for more action. He is hopeful there will be progress in the next few weeks.
"People in the recommended groups who got the Moderna or J&J/Janssen vaccine will likely need a booster shot," according to the CDC. "More data on the effectiveness and safety of Moderna and J&J/Janssen booster shots are expected soon. With those data in hand, CDC will keep the public informed with a timely plan for Moderna and J&J/Janssen booster shots."
Maryland began administering boosters to immunocompromised residents in August, Hogan said. More than 78,000 booster shots have been given in the state as of Thursday. The statewide call center began directly contacting all eligible Marylanders this week and has scheduled more than 30,000 additional appointments for boosters. Residents can visit covidvax.maryland.gov to find locations offering Pfizer boosters.
Gov. Larry Hogan says there is still no federal guidance about booster shots for the Johnson & Johnson vaccine. He says the state continues to press for action and is hopeful there will be progress in the next few weeks. @mymcmedia

— Maryam Shahzad (@maryam_mcm) September 30, 2021