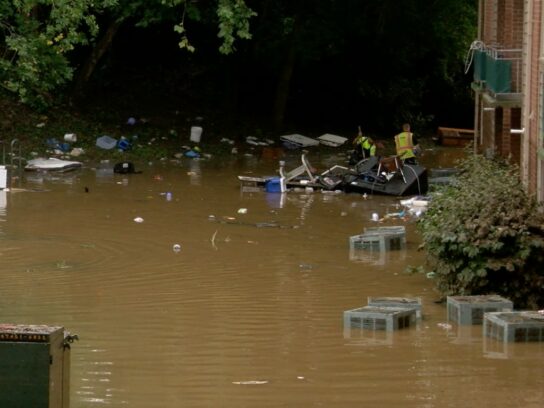 A 19-year-old male died after the Rock Creek Woods Apartments in Rockville flooded early Wednesday morning, according to Montgomery County Police.
About 150 residents are displaced, Public Information Director Shiera Goff told reporters at the apartment complex Wednesday. One resident is still unaccounted for.
Police are waiting to release the name of the deceased. Three people were taken to hospitals with non-life-threatening injuries, per a release from the police department, as well as a firefighter with minor injuries.
Around 3:50 a.m., Fire and Rescue Service (MCFRS) received multiple calls from residents, Goff said. The terrace-level units flooded and about 10 people were evacuated from their windows.
The displaced residents were taken to the Mid-County Recreation Center in Silver Spring for assistance from the Red Cross and Montgomery County. The department asks residents who may have left the apartments to call the non-emergency number at 301-279-8000 so authorities can make sure everyone is accounted for.
The remnants of Hurricane Ida caused heavy rainfall in the Washington region. Montgomery County Public Schools closed early Wednesday pending severe weather. The county is under a tornado watch until 7 p.m.
See cancellations, closures and delays in Montgomery County here.
[hr]
Previous Posts:
MCPS Dismisses Early Wednesday Due to Pending Severe Weather