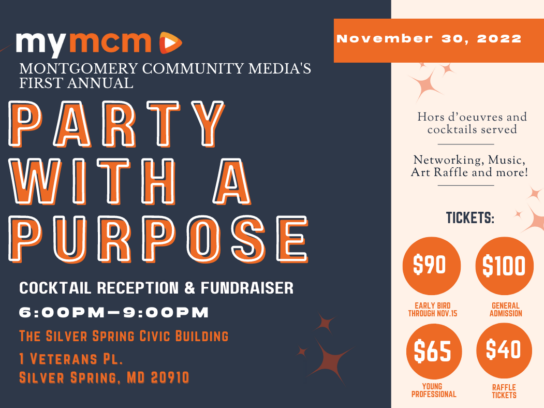 Join us for Montgomery Community Media's inaugural annual fundraiser, Party with a Purpose: Cocktail Reception and Fundraiser on Wednesday, Nov. 30 at 6 p.m. at the Silver Spring Civic Building at Veterans Plaza.
MCM's Party with a Purpose will be a special evening of networking with over 200 of Montgomery County's most influential leaders and residents and a celebration of the great strides our County has made. The event will feature music, a raffle of art from local award-winning artists, and a brief awards ceremony celebrating local leaders making a difference in communities across the county.
Make sure to take advantage of the early-bird rates on sale now. To purchase your tickets today, click here. We look forward to celebrating with you on Nov.30th!
Can't make it, but want to buy a raffle ticket? Click here to purchase a raffle ticket
Can't make it, but want to donate? Click here to donate.
Interested in becoming an event sponsor? Click here to learn more.