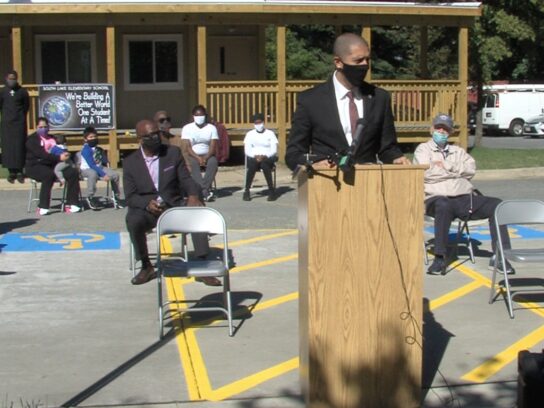 Action in Montgomery held a press conference Friday to once again urge the Montgomery County Council to prioritize South Lake Elementary School renovations.
In 2019 Montgomery County Public Schools (MCPS) determined the Gaithersburg school needed renovations due to issues like poor infrastructure and overcrowding. According to a council staff memorandum, South Lake can accommodate 694 students. However, last year 893 students were enrolled. To address the overcrowding, 13 portable classrooms were added on school property including nine on the staff parking lot. Then to address the loss of parking spaces, the memo says a temporary parking lot will be paved on school property.
According to Montgomery County Planning, the proposed lot area is adjacent to the playground.
The county council approved funding for South Lake renovations but postponed its completion until Sept. 2024, instead of Sept. 2023, due to budget shortfalls.
"I will say this. Our commitment to South Lake remains strong," Councilmember Craig Rice said when the council voted to delay construction in May. "We know that this is a priority—not only for us—but I talked directly to our superintendent of public schools who also has reiterated that this is an incredibly important project moving forward."
About three months later on Aug. 25, the school board voted to reverse the council's postponement of the project. The vote requests the county to adjust funding in order to finish construction in 2023 as originally planned.
During a Sept. 21 meeting, councilmembers on the Education and Culture Committee said they would work with MCPS and the County Executive's office to figure out how to keep South Lake on track for renovations, while also considering the county's budget constraints. Rice, the committee chairperson, suggested the committee discuss the topic again in mid-October.
During Friday's press conference Daniel Xisto, a pastor at Takoma Park Seventh-day Adventist Church, said South Lake has been systemically overlooked
"If the county council does not act in support of South Lake, they are perpetuating systemic disinvestment of a school that is predominantly Black and brown and filled with working immigrant families," Xisto said.
According to MCPS data, last year about 71% of South Lake students were Hispanic and about 21% were Black. 61% of students were in English as a second language programs and about 85% of students received free and reduced-price meals (FARM).
Xisto cited other issues at South Lake like constant leaking ceilings, broken HVAC systems and rodent droppings in lunch bins.