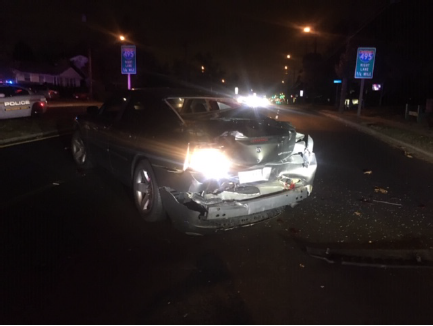 A Park Police officer was trapped by his own vehicle Sunday morning when a Jeep slammed into the back of the cruiser, according to a statement by the Montgomery County police.
The officer had made a traffic stop about 3 a.m. on Georgia Avenue at Belvedere Boulevard, as he was working with the Montgomery County Holiday Alcohol Task Force, police said. The task force includes officers from several county police agencies trying to detect alcohol-related offenses.
After making the stop, the officer walked back to his cruiser when he saw a silver Jeep Wrangler approaching from the rear at a high rate of speed, police said.
Recognizing that the approaching vehicle may not stop or move over in time, the officer tried to avoid the impact and jumped out of the way.
The impact propelled his police vehicle across two lanes of traffic and came to rest with the officer partially trapped underneath his own vehicle.
The officer, the 26-year old female driver of the striking vehicle, and her passenger were taken to local area hospitals with non-life-threatening injuries. All parties have since been released, police said.
The driver of the striking vehicle was arrested and charged with driving under the influence.
During this past week's Holiday Alcohol Task Force (Nov. 13 to Nov. 17), task force officers arrested 33 people for driving under the influence of alcohol or drugs (DUI). The number does not include charges filed by patrol officers in the performance of their duties.
The holiday alcohol task force comprises officers from the Alcohol Initiatives Section and patrol officers from the six police districts, as well as officers from the Gaithersburg, Rockville and Takoma Park police departments; the Maryland National Capital Park Police Department – Montgomery County Division; Maryland State Police troopers; and Montgomery County sheriff deputies.
The task force began on Nov. 13 and will continue through Jan. 5, 2020.