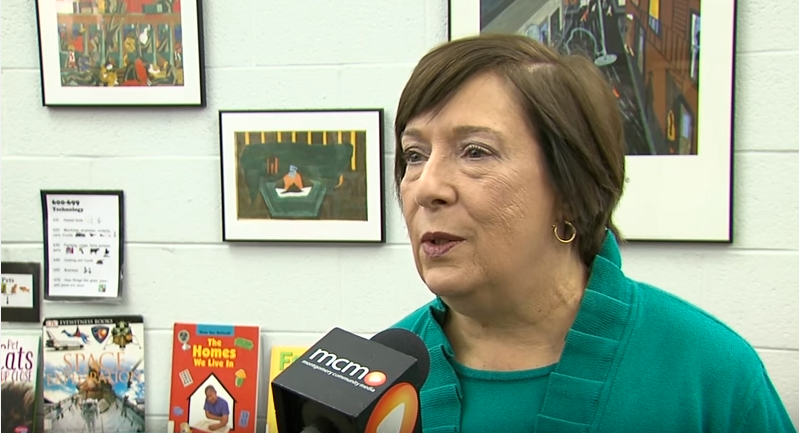 Montgomery County Public Schools Board of Education announced the death of the school board's longest-serving member, Patricia O'Neill in a letter.
O'Neill, who lived in Bethesda, died Tuesday at 71. The cause of death is currently unknown, a spokesperson for MCPS told MyMCM in an email.
According to MCPS, she was the longest-serving school board member in Montgomery County's history. She was first elected to the board in 1998 and before her death, she was serving her sixth four-year term. During her 20 years of service, she served as president of the board five times and vice president of the board six times.
"Pat had years of institutional knowledge and a deep commitment to Montgomery County Public Schools," MCPS Board of Education President Brenda Wolff said in a statement. "We have lost an impassioned advocate for children, students and our community. Mrs. O'Neill leaves a legacy of educational excellence that will guide our work for years to come."
O'Neill was currently serving as chair of the school board's Policy Management Committee and she was a member of the Fiscal Management Committee. Before serving on the School Board she was a PTA activist for the Walt Whitman Cluster.
"Pat O'Neill was a fierce champion for staff, students and families and the impact of her work will live on for generations," MCPS Interim Superintendent Dr. Monifa McKnight said in a statement. "I am grateful for her service, her leadership, and her guidance and will miss her wisdom and partnership."
In addition to serving on the Montgomery County Board of Education, O'Neill was a past president of the Maryland Association of Boards of Education. She also previously served as a co-chair of the Washington Area Boards of Education.
According to MCPS' website, "She has served on numerous advisory committees for education-related issues, including the Maryland Blue Ribbon Panel on Teen Pregnancy and the Maryland Comparable HSA Task Force. In 2006, she was named by then-Governor Robert Ehrlich to represent MABE on the Task Force on School Safety."
County Executive Marc Elrich released a statement, extending condolences to O'Neill's family and saying, "we need to continue the work she dedicated her life to."
Elrich writes, "Her love of our children was only matched by her commitment to the constituents she served for nearly a quarter of a century. Montgomery County lost a leader, public servant, and compassionate resident who was determined to make this County a better place for current and future generations."
Jill Ortman Fouse, who served on the School Board from 2014-2018, called O'Neill "extremely dedicated to her service on the board as everybody who worked with her has said. She was the institutional memory of the school system." Ortman Fouse recalled, "I always went to her when I was working on any kind of policy changes."
She added, "Even though we did not always agree about policy, I could tell she was listening to me."
Council President Tom Hucker declared, "It's obvious we've lost a real champion of public education and a fierce advocate of our students and staff." He added, "She left very big shoes to fill. She will be missed."
Eric Guerci, who was the Student Member of the Board from 2015 to 2017, said he was "shocked and devastated. She was unwavering in her support and kindness. I am just going to really, really miss her."
Guerci, a graduate student, said, "It was an unwavering rule, as Pat goes, so goes the School Board."
School Board Vice President Karla Silvestre wrote, "I was shocked to hear of the unexpected passing of Pat O'Neill. She loved serving on the board of education and she would say she had a maternal instinct towards the students in MCPS. She was a mentor to me and many of the fellow board members. She will be missed."
According to MCPS, O'Neill is survived by her "husband, Rick, and two daughters, Jenny and Melissa, who are graduates of MCPS, as well as two grandchildren and her sister." O'Neill, also is an MCPS alumna.
Leaders Send Condolences on Social Media
Devastated to learn earlier today about Pat O'Neill's passing. A fierce advocate for children and education, a dedicated and detailed-oriented public servant, and an encyclopedia of information regarding @MCPS and our schools, she'll be sorely missed. #RIP https://t.co/5auKSiryES

— Councilmember Andrew Friedson (@Andrew_Friedson) September 14, 2021
Deeply saddened by the passing of @mcpsboe Patricia O'Neill. Pat was a tireless advocate for children, youth and families. Her distinguished and remarkable career should serve as an inspiration to all of us. My condolences to her family and everyone @MCPS.

— Councilmember Gabe Albornoz (@albornoz_gabe) September 14, 2021
God bless and keep Pat O'Neill who suddenly passed away this afternoon. I extend my heartfelt sympathy to her husband Rick, daughters, Melissa and Jenny and her grandchildren. Pat was a true champion for the education of MCPS students and will be sorely missed.-JED

— Jeanette Dixon (@dixon_jeanette) September 14, 2021
Montgomery County just lost Patricia O'Neill, a friend, mentor and amazing leader whose gift was in knowing when and how to surf the waves of change and adapt to the coming seasons. pic.twitter.com/2CA60bJmTD

— Nancy Navarro (@nancy_navarro) September 14, 2021