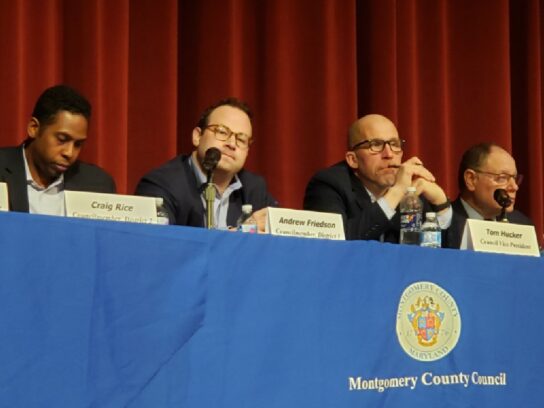 About 200 people filled Wheaton High School auditorium Sunday afternoon to offer suggestions on the best ways to reduce pedestrian and bicycle accidents in Montgomery County.
County council members, along with officials from the Maryland Department of Transportation, held a pedestrian, bicycle and traffic safety town hall as part of the county's goal to eliminate fatal pedestrian and bicycle accidents by 2030 under its Vision Zero program.
Most of the two-hour town hall was devoted to questions and comments from the audience, who urged the county and state officials to reduce speed limits, strengthen traffic enforcement and eliminate distracted driving and walking.
Several attendees complained about the lack of sidewalks in their neighborhoods, especially where young children walk to and from schools. Others criticized construction projects that make it dangerous to walk.
Although it's only February, there already have been three pedestrian fatalities and 57 incidents involving pedestrians and bicyclists in the county.
"I do feel this has reached the level of a public health crisis," declared Councilman Gabe Albornoz.
Added Councilman Hans Riemer, "This has to be a number one priority. Safety really does have to come first."
"There is not just one solution," said Councilman Tom Hucker, who noted that 58 percent of the serious accidents in Maryland involved distracted drivers.
Council members are pushing what they referred to as the three e's – engineering, enforcement and education – to help solve the problem.
Engineering-wise, the county envisions including safe pedestrian access wherever possible and financially feasible.
Enforcement could include assigning more county police officers to traffic beats and possibly obtaining stationary, automated video cameras installed utility poles that would capture drivers on cell phones.
Educationally, plans include making traffic safety programs mandatory in all schools and possibly bringing back driver education classes to the public schools.
Several people reminded everyone that just because people have the right of way does not mean they shouldn't look both ways first. Others urged pedestrians wear reflective clothing
"Despite our efforts, we have a long way to go," said Council President Sidney Katz.
Some audience members spoke about the dangers of getting around with wheelchairs, walkers and canes.
Wade Holland, the county's new Vision Zero coordinator, said the county currently is involved in a two-year plan to close gaps in sidewalks and to level areas that are potential tripping hazards, which he said should help.
Several speakers told how they had been injured or had a close call as they walked or rode to work. Two young girls, one a third grader and one a fifth grader, noted how dangerous it is for them to go to their nearby schools.
Quite a few attendees who use the Capital Crescent Trail, which has areas closed off to allow for Purple Line construction, spoke of how dangerous that area in Bethesda has become.
Councilman Andrew Friedson noted that 300,000 fewer people have used that trail due to the Purple Line work, and he called for County Executive Marc Elrich to reinstate the proposed Capital Crescent Trail tunnel in his capital budget.
That comment drew loud applause.
Also attending the meeting were Maryland Sen. Ben Kramer and Delegates Jared Solomon and Al Carr, Chair of the County Planning Board Casey Anderson and other county officials