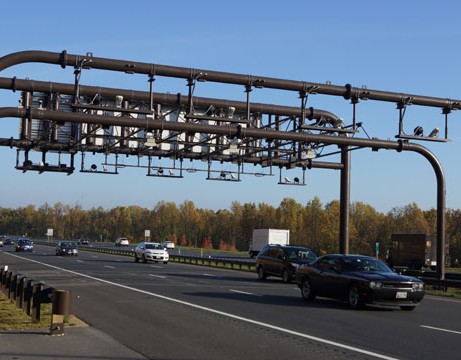 Ongoing road closures on the Intercounty Connector (ICC) for tolling upgrades have raised questions about what's changing and why there is no long-term schedule for the project. Closure updates are being sent out anywhere from a couple of days to a week in advance. 
John Sales, public affairs manager for the Maryland Transportation Authority (MDTA), said the MDTA is working on nailing down a schedule for the road closures. He said they're trying to hammer it down with their contractors, which is why a full set of dates for closures isn't available yet.
Sales said the work is about one-third of the way done, and should be completed sometime in March. 
All Maryland tolling systems are being upgraded. Sales said the upgrades are happening now because the MDTA's contract with their current vendor, Conduent Transportation, is coming to an end. While that vendor is still involved with this project, two new vendors are coming into the picture, Kapsch TrafficCom for technology operations, and TransCore Atlantic, LLC for customer service needs. Vendors manage and operate toll collection. 
Because the ICC is all-electronic, lanes need full closure, rather than other toll plazas that offer a cash option and can be partially closed. There are 12 gantries (overhead electronic readers) on the ICC, Sales said, which also makes it harder to work on as that is a high number. 
Upgrades on the ICC include entirely new gantry structures, new wiring and changes on the customer side. Sales said in June, people will be able to go to the E-ZPass website and pre-pay their tolls, so no E-ZPass transponder is required and tolls will be lower than if people were to drive through and pay later. 
Sales said the MDTA board approved new vehicle classes that will get lower tolls. In September, motorcycles will have a 50 percent toll reduction, and light vehicles with axle trailers will see reductions as well. Previously, toll lanes did not have the technology to differentiate between vehicle classes like motorcycles and cars. 
And in December, 15 percent discounts will be offered for people who pay video tolls early, before they receive any notice in the mail. 
A new customer service center will be coming, as well as an upgraded E-ZPass website.