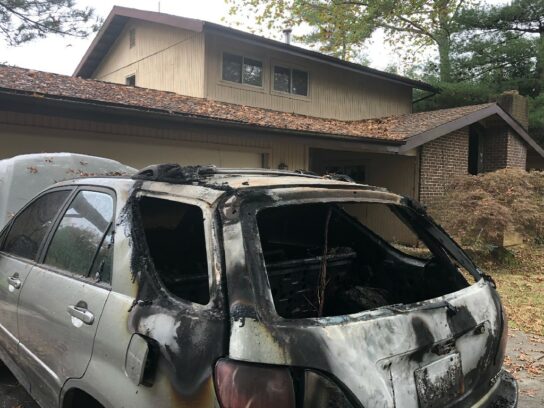 John Joseph Odonnell Jr. of Bensalem was sentenced to 12 years in prison for burning down a home in Potomac that he believed was the residence of the head of the CIA.
On Monday, Montgomery County Circuit Court Judge Christopher Fogleman sentenced Odonnell, 35, to 30 years in prison but suspended all but 12 years.
Odonnell previously pleaded guilty to first degree arson and home invasion and admitted he was under a drug induced psychosis Oct. 26 when he set fire to a home on Korman Drive.
"The defendant's actions put the life of an innocent woman at risk and displaced her from her home for 10 months," said Montgomery County State's Attorney John McCarthy.
According to Assistant State's Attorney Hannah Gleason, the homeowner called the county emergency communication center and reported she heard someone trying to break in her door and had entered her home. She also said she heard banging and smelled smoke and that she believed her car was on fire.
When Montgomery County Police arrived, they saw a vehicle on fire in the driveway and a glass basement door broken. The woman had barricaded herself into a second floor bedroom and couldn't escape due to all the smoke, according to court reports. She was rescued by Montgomery County Fire and Rescue Services and then taken to the hospital.
During the investigation, the woman said that the previous evening, the rear window of her SUV was broken into. She did report that vandalism.
Around 10:30 p.m. on Oct. 26, she heard a man and called 911. A paramedic engine officer who arrived at the scene saw her vehicle on fire and a five-gallon gas container. He also saw smoke coming from a second floor window. Fires were located in the kitchen and living room.
Investigators also found an envelope by the basement door that was a warning notice from the Philadelphia Parking Authority. It included Odonnell's name, date of birth, address and description of his vehicle. That same vehicle was recorded by nearby surveillance cameras, according to court reports.
Bensalem Police went to Odonnell's home. He voluntarily told them, "it's been a long few days, I burned a f***ing a house in Maryland, and lit Lou Pinella's house on fire," according to court reports. Police also noticed dried blood on his skin.
He was taken to the police station on Oct. 28 where he told police that the CIA had stolen $60,000 from him, and he wanted to burn down the head of the CIA's home He also told police an app on his phone led him to believe that the house in Potomac belonged to the head of the CIA, according to court reports.
Odonnell also told police he had intended to slice the throat and kill the head of the CIA and that he used a Bic lighter to start the fire.
When Bensalem police searched his vehicle, they found the Bic lighter, an Irwin hook knife and a nozzle and spout from a container used for gasoline.
He told Montgomery County police that he had been battling drug addiction for several years and that his problems began when Russian intelligence hacked into his personal life, according to court reports. He also noted that he shot cocaine that night "in order to get pumped up to kill someone," according to court reports.
When police asked if he would have killed the homeowner, he replied "yeah."
Related Post