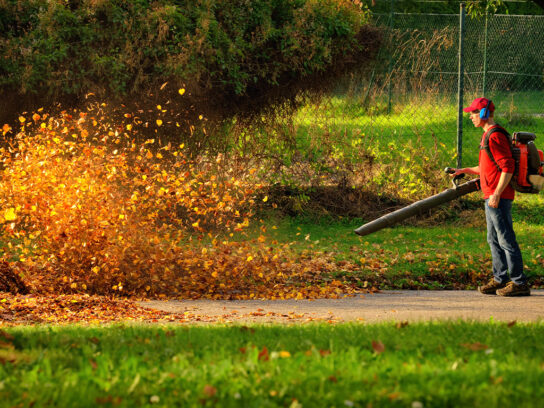 Almost 3,300 people had signed a petition Wednesday morning that calls for banning gas leaf blowers in heavily populated areas of Montgomery County.
"We want an absolute ban on gas leaf blowers within the densely populated urban portions of Montgomery County. Specifically, we propose a ban on using these devices on properties that are less than ¾ of an acre. This will tremendously reduce air pollution in our dense urban areas while allowing landscaping crews to use these machines in larger, more rural portions of the County," it says in the petition on Change.org.
The two big complaints cited in the petition, which was started by Quentin Gaudry of Bethesda, are pollution and noise. Gaudry urged all signers to email County Executive Marc Elrich and members of the council and urge them to support a ban on these gas powered leaf blowers.
According to the petition, typical gas leaf blowers – as opposed to the electric ones – "are powered by 2-stroke engines that were originally designed in the late 1800s," noting that "inherent in their design is the incomplete combustion of a gas and oil mixture without any exhaust regulation."
The petition cites that when used for one hour, a gas powered leaf blower generates the same amount of smog as a 2016 Toyota Camry driving from Los Angeles to Denver.
Council President Tom Hucker, who chairs the council's Transportation and Environment Committee, said there currently is no proposal before the council concerning gas leaf blowers, but he was told that the county executive's office is preparing one.
"Initially I thought of this as a noise vs economy and jobs, but knowing what I am learning about the health implications and environment makes me more sympathetic," he told MyMCM Wednesday morning.
Hucker said he was told by one company that electric leaf blowers are less efficient and therefore are used for longer periods of time. He added that he needed to learn more about the issue before taking a stand, although he did say, "I prefer the sound of the rake."
Montgomery County has a Noise Control Law that limits the hours that lawn and garden equipment may be used. Lawn care is not allowed to begin until 7 a.m. on weekdays and 9 a.m. on weekends and holidays.
Under that law, it lists how loud the leaf blowing noise may be and has a site to file a complaint. It also notes that a person cannot sell, buy, offer for sale or use a leaf blower that averages 70dBA at a distance of 50 feet. Violators can be fined.