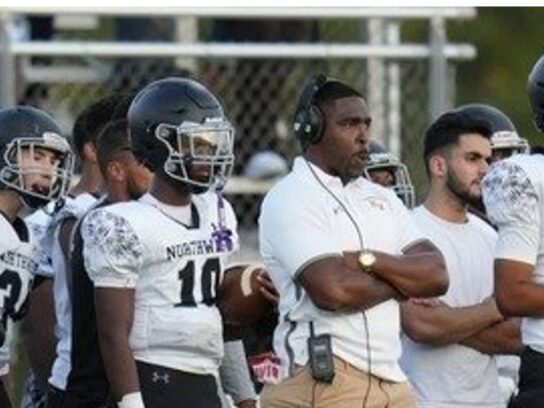 More than 2,600 people have signed a Change.org petition calling for the reinstatement of Northwest High School football coach Travis Hawkins.
Hawkins and two others were let go by Montgomery County Public Schools following a bench-clearing fight during a Sept. 16 football game against Gaithersburg High School. Also losing their jobs were Gaithersburg High School Athletic Specialist and the Northwest assistant coach, according to a community letter to the school communities.
The petition comes with the hashtag #WeStandWithCoachHawkins.
According to the petition, which was posted anonymously, "The fight wasn't started by Coach Hawkins, and the fight didn't end with Coach Hawkins.  Coach Hawkins was assaulted, placed on leave, and now terminated. How can anyone's job be at stake when they are deescalating while trying to defend themselves from physical violence?"
It continued, "MCPS made a HUGE mistake that would impact an entire community without hearing from the community first. Coach Hawkins is a mentor, a father figure to most without one, a teacher, a confidant, a pillar in our community, and was a breath of fresh air for most parents, and all students that he encountered."
The petition writer noted, "Most of the children that Coach Hawkins mentors come from broken homes. Most of the children that he's coached didn't get good grades, some of the students didn't see their life progressing passed high school, and some of the students had behavioral issues.  Not only is he their coach, but it he also a stand in for the fathers that they don't have. How do you take away the one person that gave those boys solace? He is what those boys need. His position needs to be reinstated by MCPS immediately."
Petition signer Nicole Adams wrote, "Travis deserves his job back. He was not only teaching the guys how to play football but also how to work as a team on and off the field. He was teaching them how to respect other teams players. He even disciplined his own team before for being unsportsmanlike towards another team. He was teaching them that academics come first before games. There was a lot he was teaching them and I have witnessed from working at Northwest. He's a one of a kind person and coach!
Signer Chris Everett wrote, "Travis is not just a great football coach but a role model in the community to these kids that look up to him!"
Many of the other comments described Travis a great mentor who was only defending himself.
A civil case has been filed in Montgomery County District Court, charging Hawkins with second degree assault, which is a misdemeanor. A preliminary hearing is scheduled for Nov. 7.
Hawkins, 31, is a Montgomery County native who played cornerback at Quince Orchard High School where he graduated in 2009. He then played for the University of Maryland and the University of Delaware. Hawkins played pro football for four years including one season with the New England Patriots in 2014.
NW Jags football player talk about how much Coach Hawkins means to them @mymcmedia https://t.co/eZT7nby0hD

— suzanne pollak (@SuzannePollak) October 14, 2022