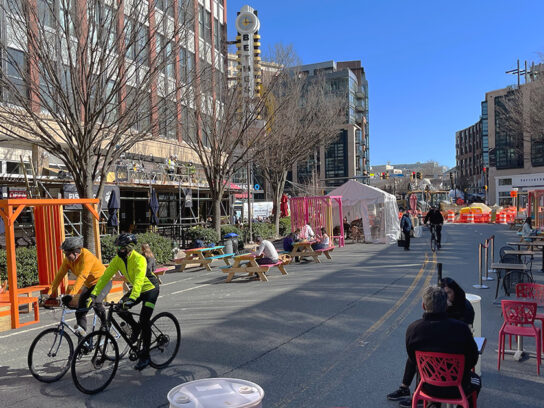 Work on a bike path along Woodmont Avenue in Bethesda is complete, and the outdoor seating area is reopening Friday night in a slightly different configuration.
The block has been closed to traffic during COVID-19 so that restaurants that were suffering financially could expand their outdoor dining.
The streetery includes street dining and a short-term curbside pick-up parking area while still dedicating two of the four lanes to vehicular traffic.
Montgomery County Department of Transportation constructed a link for bicyclists along Woodmont Avenue between Bethesda Avenue and Elm Street that is separated from the road. It is part of a new, two-way bike network and goes through parts of downtown Bethesda and connects to the Capital Crescent Trail.
"Roughly half of the businesses in Bethesda asked for Woodmont to reopen to ​vehicles," said Bethesda-Chevy Chase Regional Services Pete Fosselman in a news release. "​The surveyed businesses are located in the Urban District, as well as just outside of the district. While we want to keep our streetery in place ​because we know how important it is to the community, we ​also recognize the current setup is not working as well as it could for the business community. ​This solution is a way to best meet the needs of all those impacted by the use of Woodmont Avenue," he wrote.
"The Woodmont Streetery was immensely popular during the pandemic for residents and businesses," said County Executive Marc Elrich in the news release. "We are taking the lessons learned from the pandemic to create a better downtown Bethesda for everyone. Instead of simply going back to the pre-pandemic era, this new design is people-focused and creates an environment that supports both businesses and residents alike."
Mark Bucher, owner of Medium Rare Restaurant in Downtown Bethesda, Mark Bucher, noted in the news release that businesses have faced challenges with restricted traffic movements.
"Streeteries did a good job of creating safe outside dining options during the pandemic," he said.  "Pre-pandemic, people would drive down the street to check out what was happening on the block before deciding to stop in. The ability for cars to pass through drew people in and that is something we need more of. I support reopening the street. Bethesda hospitality businesses need to be drawing in new customers constantly to be able to meet the high rents and stay open. Additionally, there is nowhere for customers and commercial vehicles to load and unload as it is."
Montgomery County has completed construction along Woodmont Avenue in Bethesda and is reopening a reconfigured "streetery." It will provide extended street dining/short-term curbside pick-up for businesses while reopening two/four lanes to traffic. 📰➡️ https://t.co/bpzl2SBAQ9 pic.twitter.com/phSQVRGR4A

— Montgomery County MD (@MontgomeryCoMD) October 13, 2022