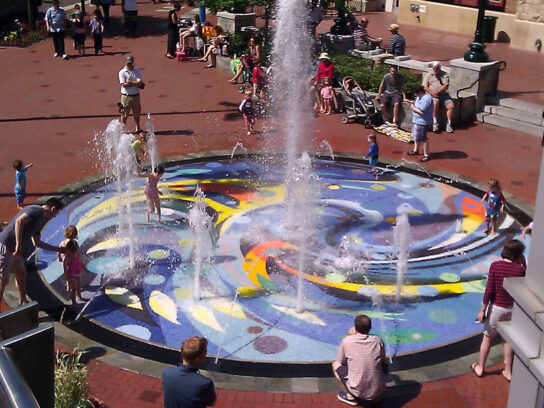 Concerned that changes to Downtown Silver Spring would cause gentrification, residents started a petition to save the fountain that children have played in for the past 15 years.
Downtown Silver Spring currently is undergoing a facelift that includes removing the road on Ellsworth Drive between Fenton Street and Georgia Avenue and replacing it with synthetic turf with numerous places to sit and sculptures and murals to view. Plans for the 22.5-acre area include increasing public space by 10,000 square feet and removing 11 parking spaces.
While many people welcome the changes, almost 400 people have signed a petition in support of retaining the mosaic fountain. The petition is titled "Save the Silver Spring plaza fountain. Ensure Ellsworth Drive is not next step to gentrifying Downtown Silver Spring."
The petition also criticizes the use of synthetic turf and random placement of benches and tables, fearing that will keep skateboarders and bike riders away.
"Downtown Silver Spring is clearly trying to attract a more up-scale, genteel clientele to Ellsworth Drive. But this is exactly how gentrification happens – pushing people of color (Black, Latinx, etc.) and lower-income community members out of the area, reducing the rich diversity that makes Silver Spring what it is today," it states in the petition, which was posted by the ACLU of Maryland, Montgomery County Chapter.
Some of the comments on the petition state, "Pro biking, skateboarding and fountain for all" and "This is one of the busiest spots in the summer. C'mon!" Another signer wrote, "Please keep the water fountain in downtown Silver Spring. The proposed changes will take away what little soul the area has now. Keep downtown Silver Spring the unique diverse place it is now! Any upgrades or changes should prioritize maintaining the current mix of community uses first and foremost. Say No to gentrification!"