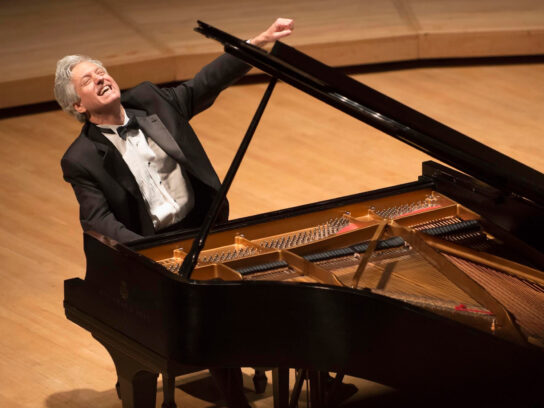 To say that classical pianist Brian Ganz is enamored with the music of 19th century composer and pianist Fredric Chopin would be quite an understatement. Since 2011, Ganz – who has played all over the world – has been on a mission to play all the works of Chopin. Ganz is perhaps the only pianist to perform Chopin's entire oeuvre.
Ganz continues his quest Saturday, Feb. 25 at 8 p.m. at the Music Center at Strathmore with cellist Carter Brey and violinist Laura Colgate.
Ganz will be joined by Carter Brey, the principal cellist of the New York Philharmonic and Laura Colgate, the Concertmaster of the National Philharmonic. The artists will perform all the major chamber music works written by Chopin including the rarely heard Trio in G Minor for Piana, Violin and Cello, Op. 8, as well as the famed Sonata for Cello and Piano in G Minor, which Ganz calls "truly great Chopin…a masterpiece."
For more information and tickets, visit the Music Center at Strathmore website. Ticket prices are $29-$99 and free for young people 7-17. There is a 20% discount for military and veterans.