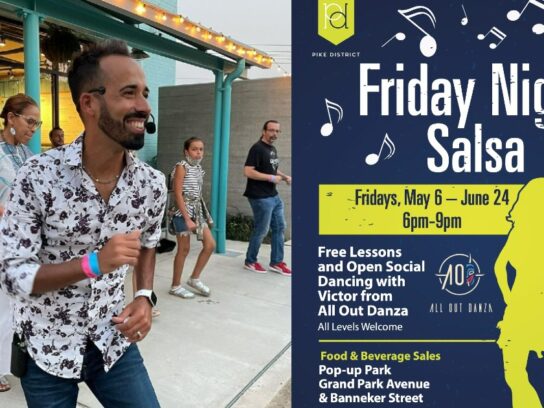 Friday Night Salsa is a free dance party series in North Bethesda from now through June 24. It will take place in a pop-up park at Grand Park Avenue and Banneker Street by the Montgomery County Conference Center garage Friday nights from 6 to 9 p.m. Dates are May 27, June 3,  June 10, June 17, and June 24.
Food and beverage vendors will be on-hand offering a variety of food options. Attendees 21 and older can purchase a selection of beer, wine, and cocktails.
There are Adirondack chairs and picnic tables in the park. Attendees may want to bring their own chairs and blankets as well.
Grab your dancing partner and join us for salsa! Starting THIS Friday, May 6th, @alloutdanza will be taking over our pop-up park weekly to show you the best salsa moves. 💃

Visit our website and sign up for our email list at https://t.co/KKmneaq54h for more Summer events! pic.twitter.com/0MDADoPLYu

— Pike District (@Pike_District) May 2, 2022
For up-to-date information and to check for weather-related changes, visit www.pikedistrict.org or follow the Pike District on Twitter, Facebook and Instagram!