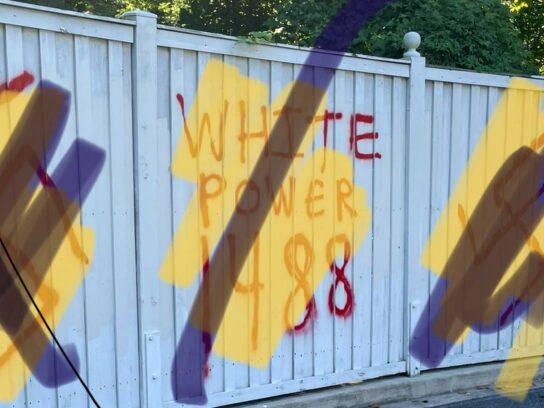 Montgomery County Police officers are investigating an incident of hate vandalism at the Bethesda Trolley Trail near Bradley Boulevard and Arlington Road in Bethesda.
Police were contacted about the graffiti that covered parts of a wall Sunday morning at 6:46 a.m. They described what they found as "anti-semitic writing in areas of the trail."
One message read "White Power 1488." According to the Anti-Defamation League, 1488 "is a combination of two popular white supremacist numeric symbols." The 14 refers to a 14 word slogan that calls for the future for white children. The 88 stands for "Heil Hitler" as H is the eighth letter of the alphabet.
County Executive Marc Elrich issued a statement that reads, "I am saddened, upset, and, quite frankly, disgusted over the racist vandalism that occurred near the Bethesda Trolley Trail this weekend."
He also noted, "Trying to intimidate others through fear will not succeed and will not be tolerated" and urged anyone with information to contact the Montgomery County Police Department, which he said was investigating and would prosecute those responsible to the fullest extent of the law.
Maryland Del. Ariana Kelly, whose district includes Bethesda, tweeted, "HATE HAS NO PLACE IN OUR COMMUNITY. " Included in her tweet was what she called "a modified image" of the hate graffiti.
The trolley trail is 6.8 miles long and links Bethesda and Rockville.
HATE HAS NO PLACE IN OUR COMMUNITY. I have heard from a number of constituents this AM about white nationalist vandalism along the Bethesda Trolley Trail. I'm sharing a modified image below. Police are involved. pic.twitter.com/rbPmSOrSkX

— Ariana Kelly (@DelArianaKelly) August 7, 2022
My thoughts on the racist vandalism discovered near Bethesda Trolley Trail this weekend. https://t.co/bXeNJIhmVg pic.twitter.com/urY4mXejHr

— County Exec Marc Elrich (@MontCoExec) August 7, 2022