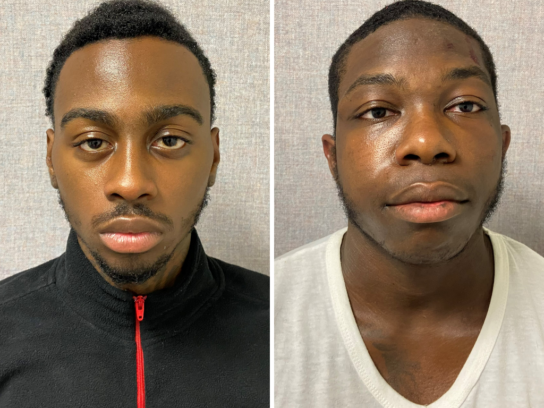 The Montgomery County Police Department (MCPD) arrested and charged two men for the Aug. 3 armed robbery of a McDonald's restaurant in Kensington.
Zachary Kinnell and Brian Elzey, both of Upper Marlboro in Prince George's County, were arrested and charged on Aug. 4, according to a press release.
At about 2:05 a.m. on Aug. 3, officers from the Wheaton police station responded to the McDonald's in the 2700 block of University Blvd. W. in Kensington for a reported armed robbery, according to police. The two suspects, traveling in a silver Chevrolet Cruz, entered the drive-thru and ordered food. Police say one of the suspects got out of the car and walked to the cashier's window. He told the cashier to leave and had a black handgun. The suspect reached through the window and removed money from a cash drawer, according to police. The two suspects left the McDonald's in the Chevrolet and proceeded east on University Boulevard.
The following day, at about 12:51 a.m., police observed a silver Chevrolet Cruz with two occupants enter the drive-thru of the McDonald's restaurant in the 12100 block of Veirs Mill Road in Wheaton. The two made a purchase and exited the parking lot area of the restaurant in the car. MCPD officers followed the car because it matched the description of the car from the Aug. 3 robbery.
Police pulled the car over and arrested Kinnell and Elzey. They were taken to the Central Processing Unit and charged with armed robbery.
MCPD believes there may be additional robberies and are asking anyone with information to call the Major Crimes Division at 240-773-5070 or 240-773-TIPS. Callers can also contact Crime Solvers of Montgomery County at 1-866-411-TIPS (8477). Callers can be anonymous, police said.
Two Adult Males Arrested for McDonald's Armed Robbery; Possibility of Additional Victims a Concernhttps://t.co/qpmk5O7TEb#mcpnews #armedrobbery pic.twitter.com/2LhGfaPcEK

— Montgomery County Department of Police (@mcpnews) August 5, 2022