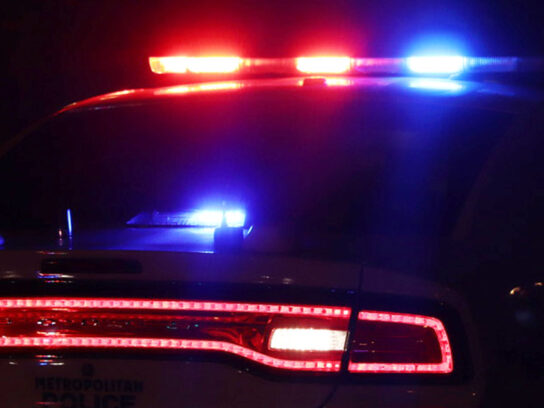 Detectives from Montgomery County Police Department (MCPD) seek the public's help in identifying the suspects of two separate armed robberies at local pharmacies. 
On Jan. 17, at about 5 p.m., officers responded to an armed robbery at the CVS Pharmacy located in the 9500 block of Georgia Avenue in Silver Spring, police said in a press release. 
During the course of the investigation, detectives determined the two suspects approached the pharmacy counter, displayed a handgun, and demanded pharmaceuticals. The employees complied with the demands and the suspects fled the scene with pharmaceuticals and medication. 
According to MCPD, one of the suspects is described as a light-skinned Black male between 18-20 years old. The suspect has a thin build and is approximately 5-feet-10-inches tall, police said. In a recently released surveillance video, he was last seen wearing a yellow knit cap, a black mask, dark-colored gloves, white sneakers, dark jeans, and a multi-colored sweatshirt. 
Police described the second suspect as a Black male with a thin build and approximately 5-feet-11-inches tall. MCPD believes he is between 18-20 years old. The second suspect was last seen wearing a black mask, black gloves, a black hooded sweatshirt, dark gray jeans, and black shoes. 
You can see the surveillance video released by MCPD here: 
The other armed robbery took place on Jan. 19, at about 2 p.m., at the CVS Pharmacy located in the 3700 block of University Boulevard West in Kensington, police said in a press release. 
Detectives determined the suspects entered the establishment and went directly to the pharmacy. One suspect then ordered an employee to the ground at gunpoint. Both suspects proceeded to steal pharmaceuticals, medication, and cash from the employee's pockets before fleeing the pharmacy. 
MCPD described the suspects as two Black males in their early 20s. Officials believe they are 5-feet-9-inches to 5-feet-11-inches tall. 
Police ask anyone with additional information on these two robberies to contact the Major Crimes Division at 240-773-5070. MCPD is also offering a reward of up to $10,000 for information that leads to an arrest of the suspects.