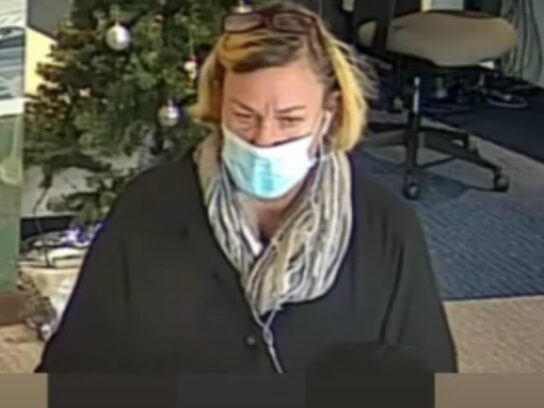 Montgomery County Police Department (MCPD) detectives are investigating a series of fraud schemes in the jurisdiction and are asking for the public's help identifying the suspect. 
On Dec. 13, 2021, the female suspect conducted the schemes at three different banks, police said in a release Friday. At about 12:40 p.m., she went to SkyPoint Federal Credit Union on Crystal Rock Drive in Germantown and identified herself to the teller as the victim's wife using a fraudulent identification card. She withdrew money from the victim's account and left, police said. 
At 1:25 p.m., the suspect arrived at SkyPoint Federal Credit Union on Colesville Road in Silver Spring and withdrew money from the victim's account using the same method. 
25 minutes later at 1:50 p.m., she withdrew money from the bank's Rockville branch.
Police released surveillance video of the suspect. She is described as "female, around 50-years-old, medium build, blonde hair, wearing a brown scarf, black jacket, black jeans and black boots." 
Anyone with information is asked to call the 4th District Investigative Section at 240-773-5530 or 240-773-TIPS, or Crime Solvers of Montgomery County at 1-866-411-TIPS (8477). Up to $10,000 is offered for information that leads to the suspect's arrest. Callers can be anonymous.
Detectives Investigate Series of Fraud Schemes; Surveillance Footage of Suspect Releasedhttps://t.co/10FaSbtzg9#mcpnews #fraud pic.twitter.com/qVu0WIZep7

— Montgomery County Department of Police (@mcpnews) April 1, 2022