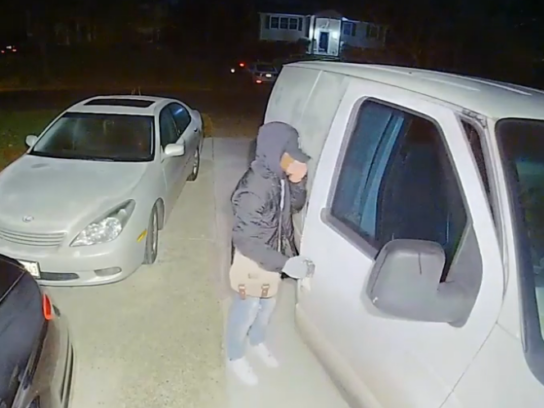 Detectives with the Montgomery County Police Department are investigating two reports of thefts from vehicles that they believe are related.
According to a press release, the crimes happened in the area of Aspen Hill. A victim reported that suspects entered a vehicle that was parked in a driveway on the 14000 block of Manorvale Road and took several items from the glove box and center counsel. Investigation suggests the vehicle doors were unlocked during the time of the theft.
In addition to that, on the same block another vehicle was broken into. Surveillance video shows that one suspect entered an unlocked work van and stole property and then attempt to enter another vehicle in the same driveway, but the doors were locked.
Detectives have released surveillance video of the two suspects and are asking for the public's help in identifying them.
Anyone with information regarding these suspects is asked to call the 4th District Patrol Investigations Unit at 240-773-5476. Those who wish to remain anonymous may call Crime Solvers of Montgomery County toll-free at 1-866-411-TIPS (8477). Crime Solvers will pay a cash reward of up to $10,000 for information that leads to an arrest in this case.