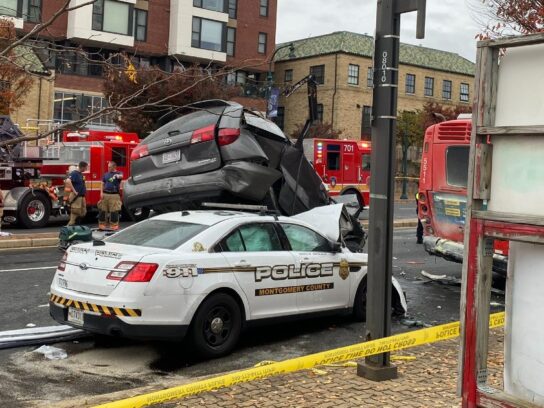 Two men from Washington, D.C. and one from Silver Spring were arrested Monday in connection with an armed robbery on Piney Branch Road that was followed by a police pursuit.
According to Montgomery County Police, at ab0ut 2:40 p.m. on Monday, officers responded to the 9300 block of Piney Branch Road for an armed robbery. The victim gave police a description of a vehicle that was suspected to be involved as a Toyota Sienna.
Officers located the suspects at the White Oak Shopping Center, where they drove off, heading south on Route 29 toward Georgia Avenue in Silver Spring. The officers pursued the car until it ended up crashing into the rear of a Metro bus on Georgia Avenue near Sligo Avenue. Then, a police cruiser crashed into the rear of the suspect's vehicle.
Two men were taken into custody at the scene, and Montgomery County Fire and Rescue staff extricated a third man from the vehicle. A loaded 9 mm ghost gun with a Glock slide and a 9 mm airsoft gun were recovered during the arrests.
The three suspects, Natnael Akalu, 18, of Silver Spring; Wesley Jose Nunez, 18, of D.C., and Lorenzo Antonio Madrid, 19, of D.C., were taken to area hospitals with non-life-threatening injuries.
They each were charged with armed robbery, use of a firearm during the commission of a felony violent crime, possession of a handgun and other charges. All three remain hospitalized on Tuesday.
No officers were injured, and there were no serious injuries to passengers on the Metro bus.
Three Males Facing Multiple Charges Following Armed Robbery and Police Pursuithttps://t.co/FL43bKel1x#mcpnews pic.twitter.com/fQeKvWEbjp

— Montgomery County Department of Police (@mcpnews) November 1, 2022
HALLOWEEN SPECIAL: ROBBERY SUSPECTS CRASH INTO METRO BUS & END UP ON MCP CRUISER: Georgia Ave & East West Highway in downtown Silver Spring– at least two subjects in custody following a high speed chase down Georgia Ave. pic.twitter.com/cWkDA08krw

— MoCo PG News (@MoCoPGNews) October 31, 2022
Happening now in Silver Spring, MD: This man is lucky to be alive pic.twitter.com/ctVJwRbidb

— philip lewis (@Phil_Lewis_) October 31, 2022
#Maryland
Happening now:
"Montgomery County Police Department and EMS crews are at the scene of a crash involving multiple vehicles in Silver Spring following a police pursuit."
https://t.co/fUNAthc13b pic.twitter.com/sHOoe6fiQ1

— Shane B. Murphy (@shanermurph) October 31, 2022