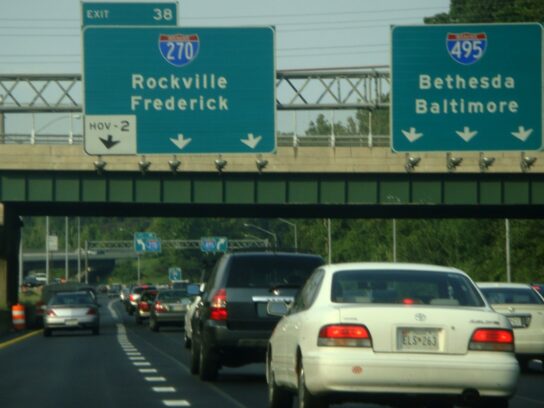 While several local and state officials praised the state's decision to not widen the Beltway at the 270-495 spur through Chevy Chase and Silver Spring, they also called for more changes to the state's latest proposal to reduce traffic congestion along the Beltway.
County Executive Marc Elrich applauded the decision not to widen 495 east of Old Georgetown Road, noting it officially ends fears by the residents and businesses that could have been displaced or negatively impacted by the project.
Under the most recent plans, a new American Legion Bridge and two high occupancy toll lanes in each direction from the George Washington Memorial Parkway in Virginia to east Maryland 187 on 495 would be built, according to the Maryland Department of Transportation. On 270, from 495 north of 370 and on the one 270 eastern spur from 187 to 270, there will be one high occupancy toll lane added in each direction.
No work is planned on 495 East of the 270 spur.
Elrich expressed concern that the new plans "will create a traffic nightmare for Montgomery County." He hopes the state will now "seriously consider two reversible lanes on 270 that flow in the direction of morning and evening rush hours," he stated in a news release. He also called for work to continue to the Frederick area rather than stopping at 370.
"I am concerned that the plan will change the location of the bottlenecks rather than alleviating them," he wrote.
However Maryland-National Capital Park and Planning Commission Vice Chair Casey Anderson, who also applauded the state's change in plans, told MyMCM, "There's unlikely to be a bottleneck created at the 270 split with the Beltway, because so much of the traffic on the western segment of 495 consists of travel between the American Legion Bridge and points to the north – although it's hard to say for sure because MDOT has not shared its traffic modeling with us."
Casey noted, "It seems more likely that a new bottleneck would be created on I-270 north of 370, because that's where 270 will narrow to two lanes in each direction.
He called the state's new plans "a huge step in the right direction now that this project has been phased. We are going to want to work through the details, especially as it relates to funds for transit and minimizing impacts to parkland and we will also look to our elected officials for input on the issues they consider important."
According to Anderson, the next steps should "include working closely with MDOT to review the options for including meaningful transit along I-270 and the American Legion Bridge and providing guidance and feedback on the environmental justice issues."
M-NCPPC Chairperson Elizabeth Hewlett wrote in a news release, "As a cooperating agency on the Managed Lanes Study, we are pleased and encouraged by the State's phased approach. This will allow each segment to be reviewed as the need for improvements to I-495 east of I-270 becomes clearer based on further study."
Elrich also expressed concern about the state's decision to continue the project as a Public-Private Partnership (P3), "which, as currently structured, has the potential to be unnecessarily expensive. I believe that this infrastructure would produce a greater return on investment for the taxpayers if it were delivered without the burden of having to generate profits for outside investors."
Elrich added, "Given the willingness of the Biden Administration to invest in infrastructure, especially mass transit, we need to reach out to them to be our partners and to bring mass transit across the American Legion Bridge and bring Bus Rapid Transit south from Frederick on I-270 via reversible lanes to have a positive impact toward reversing climate change."
Several local and state politicians continued to call on the state to create public transit alternatives to reduce traffic jams. State Delegate Lorig Charkoudian tweeted of the need "to develop solutions that minimize new asphalt, prioritize transit, and doesn't result in new bottlenecks.
Also, need to stay on top of remainder of project, to develop solutions that minimize new asphalt, prioritize transit, and don't result in new bottlenecks.
TY federal, state, county, municipal officials & activists who engaged w/ MDOT to revise this disastrous plan.

— Lorig Charkoudian (@LCharkoudian) May 13, 2021
Recent Post
Maryland Scales Back Beltway Widening; No Work on 495 East of 270 Spur