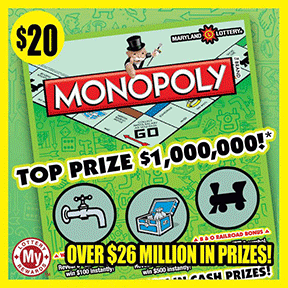 A Potomac man and his wife are $50,000 richer thanks to a Monopoly scratch-off.
The 75-year-old purchased several Monopoly scratch-offs at a Bethesda Lottery retailer and took them home for his wife to play.
According to a Lottery press release, she scanned the $20 Monopoly scratch-off using the Lottery app, her phone showed a winning message. She then called Lottery headquarters and learned they had to claim the prize in Baltimore.
 "It was really surprising," said the man who claimed the prize for his wife earlier last week.
 The couple has no initial plans for the $50,000 prize. After paying bills, the husband said they plan to put the rest of the funds into savings.
Their lucky Lottery retailer is Talbert's Ice and Beverage Service located at 5234 River Road in Bethesda. For selling a top-prize winning scratch-off in the game, the Montgomery County store earns a $500 bonus from the Lottery.