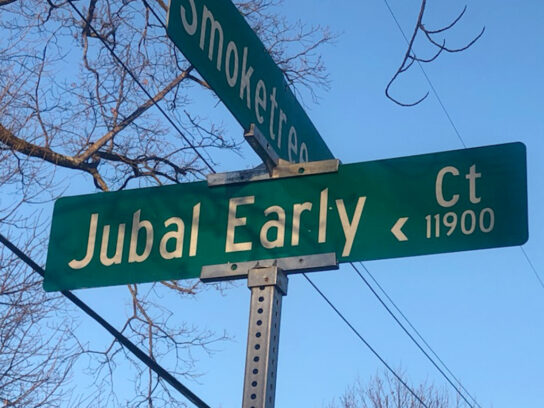 Three streets in Potomac that bear the names of Confederate officers will be renamed to honor African American historical figures, the Montgomery County Planning Department announced one day before Juneteenth.
The streets currently named J.E.B Stuart Road and J.E.B. Stuart Court will be renamed Geneva Mason Road and Geneva Mason Court respectively. The street now known as Jubal Early Court will become William Dove Court. The new signs are expected to be erected later this summer.
Mason lived from 1899 to 1980 and was a prominent community leader in the Scotland community, which centered near Seven Locks Road in Potomac, according to the planning department. She was instrumental in rebuilding of that community and its fight against urban renewal efforts in the 1960s.
Dove was an African American man who was born into slavery and was one of the founding members of the Scotland community. He purchased some of the first parcels of land there, according to the planners.
Scotland is an African American community near Seven Locks Road and consists of 100 townhomes. Its roots date back to the late 19th century, when former slaves bought land in Potomac.
"After listening to the community and giving careful consideration, I have made the determination to rename the three streets, which are currently named for Confederate officers, after consequential Montgomery County residents. These street names will honor the legacies of these local African American historical figures going forward and take a small step towards righting the wrongs of our past," said Planning Director Gwen Wright.
The decision to rename these streets began last summer when members of the Montgomery County council wrote to the planning board and Executive Marc Elrich asking to review all county-owned and maintained street names and parks that are named for Confederate soldiers or slave owners.
Nearby residents were consulted and many supported removing the names of Early and Stuart.
Planners found more than 325 street names that preliminarily match the last names of Confederates. The planners created a database, which houses the names of 709 known Confederates, including 269 who were residents of Montgomery County and 440 senior officers in the Confederate Army. The database also contains the names of 5,826 local slaveholders and more than 3,300 slaves.
Residents on these streets and in the Montgomery Square and Regency Estates neighborhoods supported this change and dozens attended this gathering almost a year ago in which they made clear symbols such as street names that normalize racism will not be accepted here. pic.twitter.com/GB1aRFNRNn

— Councilmember Andrew Friedson (@Andrew_Friedson) June 18, 2021
Recent Post
County Seeks to Eliminate Street Names Honoring Confederates, Slaveowners