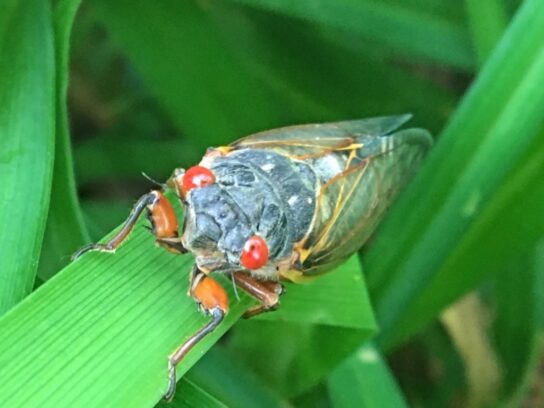 Un clima más cálido significa días más largos, comidas al aire libre y este año: cigarras. Se espera que esos ruidosos insectos salgan de nuevo, después de 17 años, a la superficie subterránea.
Las cigarras deberían aparecer tan pronto como la temperatura del suelo alcance los 64 grados. Los residentes del condado de Montgomery probablemente ya pueden notar en el suelo dónde emergerán estos insectos en las próximas semanas, probablemente entre mediados de mayo y principios de junio. Algunos en el condado de Montgomery ya han sido testigos de una cigarra o dos en sus patios, durante los últimos días.
Detalles de las cigarras:
Algunas cosas importantes que debe saber sobre el cuidado de las cigarras, información de las Bibliotecas Públicas del Condado de Montgomery (MCPL):
No son peligrosas.
No pican, no muerden ni transmiten enfermedades.
No comen hortalizas, pero pueden dañar algunas plantas.
Podan árboles maduros.
Airean el suelo.
Una vez que mueren, sus cuerpos sirven como una fuente importante de nitrógeno para los árboles en crecimiento.
Los ruidos muy fuertes que hacen son el canto de apareamiento de las cigarras macho.
Son comestibles para los humanos, pero pueden ser dañinos si los perros se los comen.
Aquí le mostramos cómo cocinar langostinos de cigarra (vídeo en inglés)
Aprenda sobre las cigarras en el próximo evento virtual
MCPL patrocina una charla virtual sobre cigarras el 22 de abril a las 6:30 p.m. Clarence Hickey, un biólogo jubilado y residente del condado, hablará sobre cómo se espera que estos insectos cubran el área y se puedan encontrar principalmente en los árboles y sus alrededores.
Se espera que las cigarras Brood X aparezcan en la superficie y luego muden sus pieles. En esta etapa, son las más vulnerables y comestibles. Hickey compara las cigarras en esta etapa con un "cangrejo de caparazón blando".
https://www.instagram.com/p/CN0vZPaB3-x/
Qué hacen las cigarras durante poco tiempo sobre el suelo
Si bien pueden vivir de 13 a 17 años, su vida en la superficie es corta. Rápidamente se convierten en adultos, y miden entre 1,5 a dos pulgadas. En la superficie, solo vivirán alrededor de dos a cuatro semanas, pero durante ese corto tiempo pondrán suficientes huevos para salir a la superficie nuevamente.
Durante una época en la que los residentes salen más a la calle, gracias al clima más cálido y la vacuna COVID-19, las cigarras pueden ser una molestia suficiente para enviar a la gente de regreso al interior. Sin embargo, "uno de los aspectos positivos de las cigarras que vienen durante el COVID es que las máscaras las protegen para que no se metan en la boca o cerca de la cara", dijo Gaye Williams, entomóloga del Departamento de Agricultura de Maryland, Sección de Protección de Plantas y Manejo de Malezas.
Brood X cicadas emerge soon after seventeen years underground.

This mass emergence will produce loud cicada songs during the day, an all-you-can-eat buffet for local wildlife, and densities up to 1.5 million cicadas per acre in some areas!

Learn more: https://t.co/B6XzwFnQTB. pic.twitter.com/PUNBBdywvd

— Montgomery Parks (@MontgomeryParks) April 14, 2021
Impacto de las cigarras en el medio ambiente
Las cigarras tienen el potencial de beneficiar al ecosistema. Sus cadáveres son un buen fertilizante para árboles y otras plantas, y a menudo causan un "boom" de cultivos, dijo Williams.
Cuando ponen sus huevos, las cigarras tienen el potencial de dañar árboles pequeños. Por lo tanto, la mayoría de los viveros y huertos han retrasado la plantación de sus árboles. Para los residentes que tienen árboles pequeños, intente protegerlos con una red desde el suelo.
Maryland will see the emergence of the seventeen-year cicada this May and June.

Cicada population density after emergence can be as high as one million per acre!

Female cicadas lay eggs in twigs and branches. This may damage–but not kill–newly-planted or young trees. pic.twitter.com/AuWK7K4XDv

— Montgomery Parks (@MontgomeryParks) February 18, 2021
Los pesticidas y otros aerosoles para insectos no matan a las cigarras y pueden causar daño al medio ambiente, dijo Williams.
Estos molestos insectos no son tóxicos y está bien que los perros ingieran algunos. Solo tenga en cuenta la cantidad que consume el animal, dijo Williams, ya que el animal puede experimentar problemas intestinales.
Se puede encontrar información sobre las cigarras a través del Centro de Jardinería y Hogar de la Universidad de Maryland. Puede encontrar un rastreador de cigarras en cicadas.info y más información en cicada mania.com.