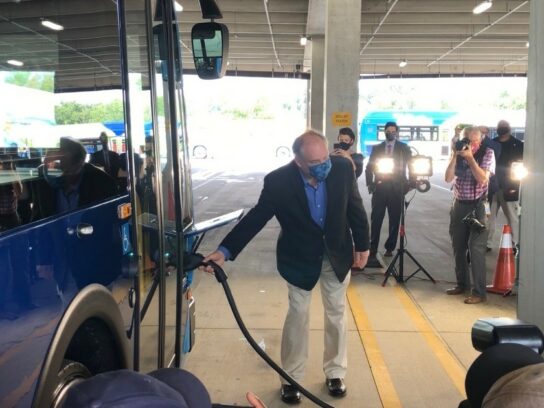 President Joe Biden mentioned Montgomery County's bus electrification program in his remarks Tuesday at the National Association of Counties Conference.
During his speech which emphasized the importance of county government, Biden said, "In Maryland, Montgomery County and Prince George's County, replacing dirty diesel buses, which are bad for the health and environment."
Montgomery County's Department of Transportation is utilizing a $15 million grant to purchase 13 hydrogen fuel cell buses and construct a green hydrogen fueling station. The fueling site will be located at the David F. Bone Equipment Maintenance Transit Operations Center in Gaithersburg.
The county plans to use the funds to replace 13 diesel-fueled buses from its Ride On fleet. The new buses feature zero emissions and are expected to reduce the county's annual emissions by 640 tons. The buses are not expected to be in service until late 2025.
During his speech, Biden complimented county employees. "Well, I've always had enormous respect for the job you do.  You — you're the ones who make people — make sure everything gets fixed; the libraries stay open late so kids can do their homework; the sewer system isn't backing up into the creek and their basement.  So, you make sure that your public health department runs smoothly, that your communities are meeting the needs of a growing and changing population, that your residents have access to affordable housing, and that you're investing in public safety."
He added, "And when your constituents call needing help with a — with a state problem or a city problem, you take the call and you get it done.  You end up calling to make sure you find out how to get it done."
Executive Elrich was "proud" that the county's program was highlighted. "Our effort to electrify public buses and take them off the power grid should be replicated elsewhere," he tweeted.
Proud to hear President Joe Biden mention Montgomery County in his speech at the National Association of Counties Legislative Conference. Our effort to electrify public buses and take them off the power grid should be replicated elsewhere. https://t.co/picH6dbBn0 @NACoTweets pic.twitter.com/HkE4G8cDKq

— County Exec Marc Elrich (@MontCoExec) February 14, 2023
Related Post
County Receives $15 Million Grant for Hydrogen Electric Buses