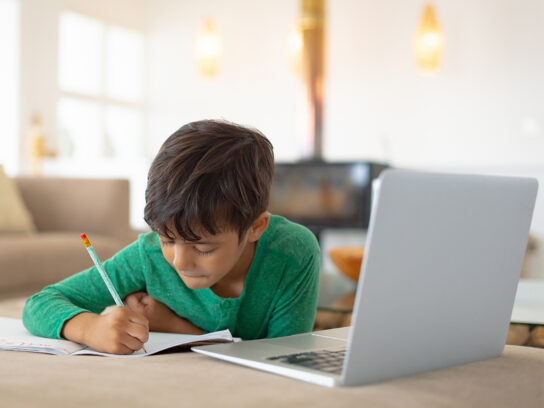 Several parents and private schools signed onto a lawsuit that was filed Aug. 3 in U.S. District Court, claiming County Health Officer Dr. Travis Gayles exceeded his authority when he directed all private schools to remain virtual until at least Oct. 1.
Gov. Larry Hogan took the teeth out of Gayles' directive by issuing an emergency order Aug. 3 against Gayles and many private and religious schools currently are planning to hold classes in their buildings at the school year.
However, Gayles implied the matter is not settled. "We are still exploring" how Hogan's emergency order impacts county actions, he said. "We are still figuring that out," he told council members during their Aug. 4 meeting.
Families whose children attend Our Lady of Mercy School in Potomac, St. Bartholomew's School in Bethesda, the Torah School of Greater Washington in Silver Spring, Charles E. Smith Jewish Day School in Rockville and the Heights Schools in Potomac as well as officials from Avalon School in Silver Spring and Brookewood School in Kensington filed suit in federal court against Gayles.
Attorney Timothy Maloney, whose office is in Greenbelt, said, "Dozens of people contacted us" to see what their legal rights were. Despite Hogan's emergency order, Maloney said the suit will remain active until the county "unequivocally" steps aside and lets individual private schools decide whether to hold in-school classes.
The concern remains that Gayles and other county officials could come up with a ruling that would make it difficult for private schools to open up, he said.
"Who knows what they are empowered to do or not do," Maloney said, adding that the county's decision to force private schools to begin the school year virtually is unique and not occurring in any other Maryland county, or as far as he knows, any other state.
"The surprise order was stunning in its abruptness and timing," it says in the lawsuit. It questions why some day care centers, camps and businesses can open but not religious or private schools.
The lawsuit calls Gayles' action a violation of the First Amendment, against freedom of religion, association and assembly.
Gayle's decision appears to be a political response, an answer to complaints by some public school parents about why their schools must be virtual but not private schools, it says in the suit, calling that "unlawfully discriminating against religious and private schools."
Robert Drummer, senior legislative attorney for the county council, told council members that the county government as a local jurisdiction can act based on local conditions.
Gayles told council that all his decisions are based on numbers and trends, and not politics. "The data determines how we move forward," he said, noting, "Our motivation is to keep people safe."
At one point, the county registered 30 to 40 new cases a day but that has risen to 70 or 80 cases daily. Gayles said he would like to see that number dropped to seven or eight. He also said that he takes Prince Georges' and Washington, D.C. numbers into consideration.
Before any school can open, the county needs to know it is following CDC guidelines and has specific plans on how to handle an outbreak of COVID-19 , Gayles said.
Councilmember Craig Rice questioned the equity of allowing private schools to open when Montgomery County Public Schools will be virtual for the first semester. Rice said that appears to favor folks who can afford private school and may not be experiencing the same health risks as needy people.
Councilmember Will Jawando, who has children in both public and private schools, said, "schools are vectors for spreading of the disease" and questioned what the county will be able to do if an outbreak occurs.
According to the lawsuit, during the 2019-20 school year, there were 22,312 students enrolled in nonpublic schools, with 40 percent attending religious schools.
You have made this completely political and in the process put students, their families and our communities at risk. As a parent of children in both public & private schools the health of my children is paramount. #Covid_19 doesn't stop at the doors of any school. #coronavirus https://t.co/vobu7x4UES

— Will Jawando (@willjawando) August 3, 2020