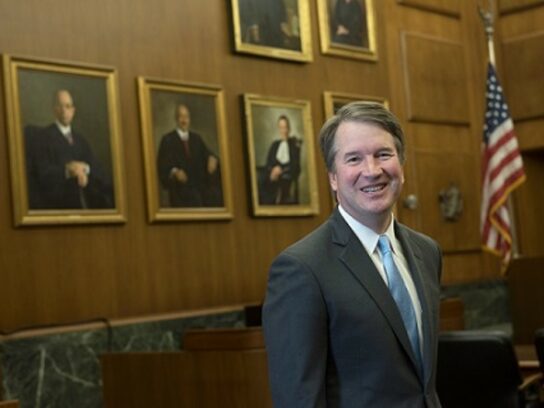 The Montgomery County Department of Police (MCPD) will enforce disorderly conduct and protest laws outside of Chief Justice John Roberts' and Associate Justice Brett Kavanaugh's homes in Chevy Chase, according to a department announcement on July 13.
The announcement comes in the wake of months of protests over abortion rights outside the justices' homes. While mostly peaceful, the protests have stirred much concern across the country. In June, a man traveled from California to Kavanaugh's home with the intention of assassinating the justice, according to an FBI affidavit.
"[MCPD] is committed to preserving the first amendment rights of all individuals," the department wrote in the statement. "Peaceful, lawful protest and assembly is a cornerstone of our democracy."
However, there are local and state laws that restrict protests in residential areas. 
"These laws exist regardless of the type of protest or assembly, or their location within a residential neighborhood," said MCPD.
The statement lists many relevant statutes, the most important of which include restrictions on volume and a requirement that protesters keep moving rather than stop in front of any private residences.
Since the change in enforcement, protesters have had to discard bullhorns and continue walking. Moreover, police are measuring the volume of the protesters' chants with a decibel meter in the event that the chants go above a baseline level, which, in a neighborhood like Roberts and Kavanaugh's, is between 49 and 50 decibels, said Captain Jason Cokinos.
Cokinos, clarifying how loud the protesters may be, said that a conversation-level voice, but below a shout, would likely be lawful.
Before the July 13 announcement, County Executive Marc Elrich had been reluctant to urge the MCPD to do more, citing First Amendment rights. Furthermore, in response to a July 1 letter from Gail Curley, the head of the Supreme Court's security force, requesting that he enforce anti-picketing laws more stringently, he suggested that the protection of the justices was primarily the responsibility of the federal government. Also, he called Curley's letter an attempt to grandstand and have a conversation through the media, rather than directly.
Elrich stands for reelection this year and has made abortion rights a central issue in his campaign. After the Supreme Court's reversal of Roe v. Wade in late June, Elrich voiced deep concerns, participated in rallies, and implemented a county policy that restricts tax-payer funds from going toward any state likely to legislate against abortion.
Since July 13, protesters have continued to assemble outside the justices' Chevy Chase homes and more protests are planned, according to tweets from organizers. 
It is unclear whether anyone has been arrested under the new enforcement procedures.