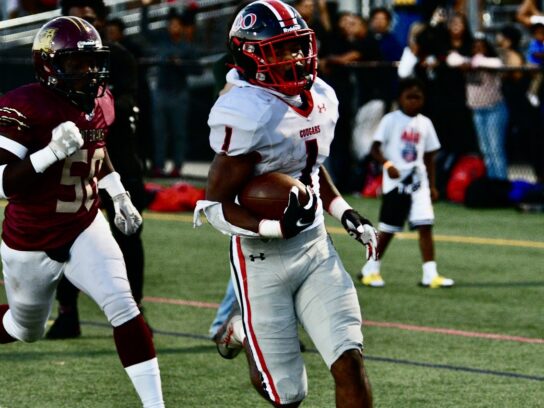 For the second week in a row, Quince Orchard displayed dominance on both sides of the ball. The Cougars beat the Paint Branch Panthers 35-0 on the road Friday night.
The Cougars' defense stifled the Panthers' offensive attack throughout the game, forcing several punts. Through two games this season, the Quince Orchard defense has not allowed a single score.
Paint Branch's offense struggled to move the ball and convert third down attempts throughout the game. The Panthers played two quarterbacks during the game, Travon Jackson and Christopher Cris, Jr., but neither signal-caller found much success through the air against Quince Orchard's secondary.
On the other side, Quince Orchard's offense put together four scoring drives. The Cougars scored two rushing touchdowns in the first half, including a long 56-yard run by running back Iverson Howard. Backup quarterback Antonino Marzullo scored on a one-yard touchdown run.
Additionally, the Cougars' strong passing attack was on display, as quarterback Savan Briggs threw for two touchdowns. His first touchdown went for 17 yards to tight end Kendall Johnson, and his second touchdown pass was a 23-yard strike down the sideline to wide receiver Kobe Neal. Johnson also scored on a 59-yard kickoff return for a touchdown to start the second half.
@QOAthletics QB Savan Briggs hits TE Kendall Johnson for the redzone touchdown.

Quince Orchard 14, Paint Branch 0
9:05, Q2@mymcmedia pic.twitter.com/8a44URTmDx

— Daniel Philipose (@dphilipose28) September 9, 2022
Coupled with last week's victory over Whitman, Quince Orchard has now outscored their opponents 96-0 through two games this season. The Cougars will face off against Walter Johnson (2-0) next week for their 2022 home opener.
Paint Branch drops to 1-1 after the loss. They will look to bounce back next week at home against Springbrook (2-0).