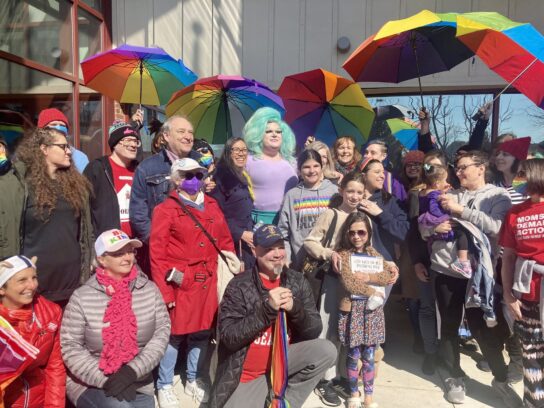 If you've been to a drag story hour, you've probably noticed a line of rainbow umbrellas shielding children from protestors. The group of residents that for months have volunteered their time, have now formed the Rainbow Defense Coalition (RDC).

According to the group's twitter, The Rainbow Defense Coalition forms "a rainbow brigade to protect children and queer folx and standing up for LGBTQIA2S+ rights in the DMV." 
Since July, the locally-led group has attended drag story hours in Montgomery County in partnership with Drag Story Hour DMV. It all began after people like Councilmember Kristin Mink contacted the Moco Pride Center to see if they needed assistance mobilizing. Parasol Patrol, a nonprofit created to protect children from protesters at LGBTQIA+ BIPOC events also helped train local organizers. 
RDC says anyone interested in joining their rainbow brigades is free to do so. You can contact the coalition at rainbowdefensedmv@gmail.com.