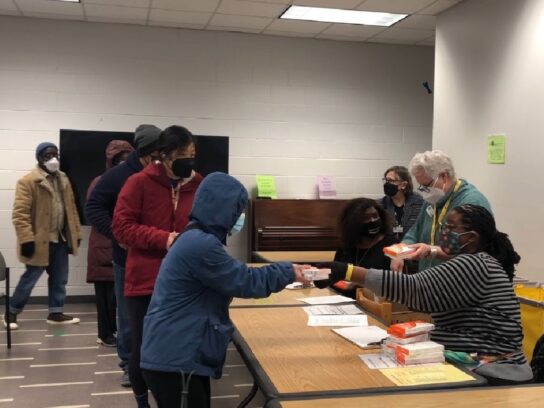 Update (Tuesday): More than 93,000 COVID-19 rapid test kits were distributed through libraries Monday. 
Beginning Tuesday, libraries will be limited to 1,800-2,500 kits per site per day — about 35,000 across all sites — in order to guarantee enough to sustain distribution through Saturday, Montgomery County Assistant Chief Administrative Officer Dr. Earl Stoddard said during a council meeting Tuesday. Stoddard is hopeful the county will receive another delivery this week but officials want to make sure they can guarantee sites will be open for shifts that have already been advertised.
_________________________________________
Original (Monday): Montgomery County residents can pick up free rapid COVID-19 tests at county public libraries. 
At 11 a.m. the line wrapped around the White Oak Library on Monday as residents waited for the first day of distribution to start. Once doors opened, people moved quickly and the line soon subsided. Within 30 minutes, it was reduced to a steady trickle. 
Residents can get two nasal swab test kits – which is four tests total – per person each visit. The kits include instructions about how to use them at home. Kits are given on a first come, first served basis and according to the county, as long as supplies last, residents will receive tests if they are in line 30 minutes before the end of distribution hours. 
The following branches distribute from 11 a.m. to 2 p.m. Monday through Saturday: Aspen Hill, Chevy Chase, Damascus, Davis, Gaithersburg, Little Falls, Potomac, Silver Spring, and White Oak.
These branches distribute from 4 to 7 p.m. Monday through Thursday, and from 2 to 5 p.m. Friday and Saturday: Connie Morella (Bethesda), Germantown, Kensington Park, Long Branch, Marilyn Praisner (Burtonsville), Olney, Quince Orchard, Rockville, Twinbrook, and Wheaton.
The county plans to share an online portal for residents to report their test results sometime this week. Those who have COVID-19 symptoms should not go to a library pickup location and should instead contact their healthcare provider or make a PCR test appointment.
MyMCM spoke to residents at the White Oak Library who were eager to pick up rapid tests. 
Line for rapid test pickup at White Oak Library wraps around the building, moving quickly. @mymcmedia pic.twitter.com/lPIVcZLY0m

— Maryam Shahzad (@maryam_mcm) January 10, 2022