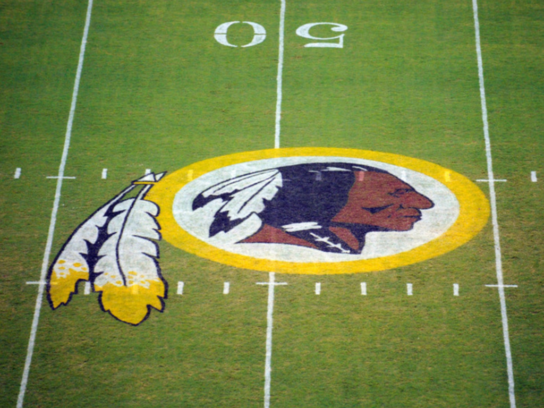 Less than two weeks after the Washington Redskins said they would undergo a review of the team's controversial name, the franchise announced that they will officially retire their nickname and logo. The team released a brief statement Monday morning announcing the decision to rebrand the franchise.
"Dan Snyder and Coach (Ron) Rivera are working closely to develop a new name and design approach that will enhance the standing of our proud, tradition rich franchise and inspire our sponsors, fans and community for the next 100 years," the team wrote.
— Washington Football Team (@WashingtonNFL) July 13, 2020
Noticeably, the team's name and logo are still present at the top of the statement. And the name "Redskins" is mentioned three more times in the statement. As of Monday morning, the team's website and social media accounts still featured the old logo in its profile.
Reports and rumors circulated over the weekend that the team was also planning on announcing the team's new name for the 2020 football season on Monday. However, the team was reportedly forced to delay the reveal because of pending trademark issues.
Monday's decision to officially retire the name ends years of debate over whether it was time for the "Redskins" to go. The most ardent defender of the name was team owner Dan Snyder, who once vowed to "never" change the team name. Reports even indicated that Snyder would have rather sold the franchise before renaming it.
Snyder, who owns about 60 percent of Washington's team, was ultimately swayed by a grim financial reality as sponsors demanded a new name in the wake of a national reckoning over systemic racism. Last week, 87 investors and shareholders worth $620 billion sent a letter to Nike, Fedex, and PepsiCo requesting that they no longer do business with the team until the name was changed. In addition, a group of Native American leaders wrote a letter to NFL commissioner Roger Goodell imploring the league to change the name, which they considered racist and offensive.
The swift decision to change the name underscores the challenges the team will face in unveiling an entirely new brand in time for the 2020 football season, assuming it is not postponed due to COVID-19. According to multiple reports, Washington is expected to keep its burgundy and gold colors on the new uniforms.