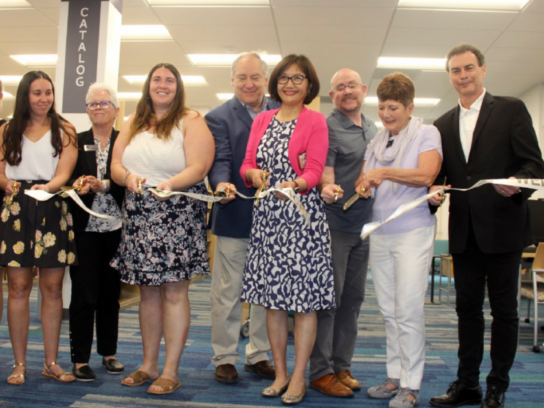 Montgomery County Public Libraries (MCPL) reopened their refreshed Maggie Nightingale branch in Poolesville Saturday with a ribbon-cutting ceremony and celebration. The branch closed in August 2021 for renovations under the Library Refurbishment Level-of-Effort initiative in the County's Capital Improvements Program.
"With innovative upgrades, that include sustainable features, as well as more accessibility for those with disabilities, the visitor experience at the Maggie Nightingale library has been improved," County Executive Marc Elrich said. "I encourage all Poolesville residents to come check out the library and take advantage of this great resource, a facility worthy of its namesake, Maggie Nightingale."
Renovations to the Maggie Nightingale library also include the replacement of all flooring, new shelving in select areas, a new service desk, painting throughout, additional lounge seating, and replacement of the entry doors.
"We are so excited to reopen Maggie Nightingale Library to its community members, who we know have been eagerly awaiting this day," MCPL Director Anita Vassallo said. "I hope they will be as pleased as we are about all the new refurbishments."
KANE Construction served as the contractor for the renovation project that cost $1,033,187.  NOA Architects provided architectural services.
For more information about the library, visit the Maggie Nightingale Branch website.
Photo Courtesy: Montgomery County