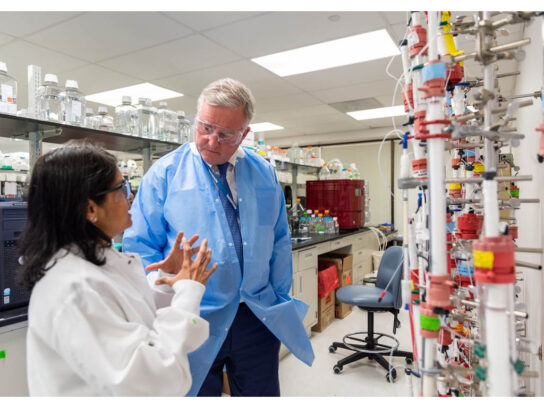 Rep. David Trone (MD-06) toured Novavax, a biotechnology company in Gaithersburg this morning to learn more about the company's vaccine trials and planned expansion.
The Novavax COVID-19 vaccine is currently in phase 3 of clinical trials, showing an efficacy rating of nearly 90%. The company plans to seek FDA approval soon.
During his visit, Trone spoke on the importance of developing the COVID-19 vaccine and expressed his appreciation for the company's employees.
"The main reason we can all start getting back to normal is because of the incredible scientists like those here at Novavax," Trone said. "Understanding the work of the scientists and researchers here today and the planned expansion and addition of up to 400 good-paying jobs shows what incredible talent and opportunity we have here in Montgomery County."
Outside of the company's COVID-19 vaccine trials, Novavax produces vaccines for infectious diseases including Ebola, seasonal influenza and severe acute respiratory syndrome (SARS). Novavax technology uses particular recombinant nanoparticles to address adaptations of infectious diseases and used similar technologies to develop its protein-based COVID-19 vaccine candidate.
As of this week, approximately 75% of adults in Maryland have received at least one dose of the COVID-19 vaccine and the daily case rate has decreased to one in 100,000.
Thank you @Novavax for inviting me to tour your facility in Gaithersburg.

Not only are you bringing new jobs to @MontgomeryCoMD but you are also on your way to bringing us a new COVID-19 vaccine.

This is how we beat the pandemic and get back to normal! pic.twitter.com/c4qHH1Bfnw

— Rep. David Trone (@RepDavidTrone) July 8, 2021