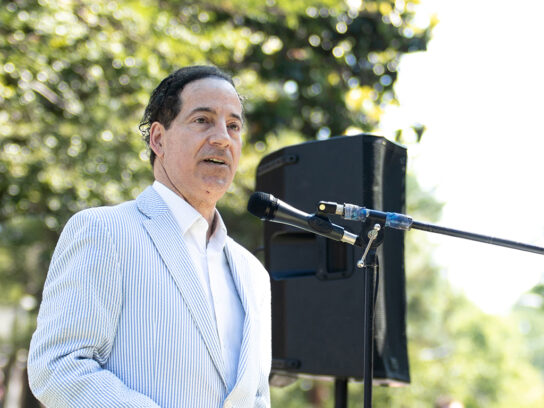 U.S. Rep. Jamie Raskin is a member of the newly-formed Select Committee to Investigate the January 6th Attack on the U.S. Capitol.
Speaker Nancy Peloski announced her choices July 1 for the committee that is designed to examine and report upon the facts and causes of the attack and rioting. Besides Raskin, she also named Reps. Bennie Thompson (D-MS), Zoe Lofgren (D-CA), Adam Schiff (D-CA), Pete Aguilar (D-CA),  Stephanie Murphy (D-FL) and Elaine Luria (D-VA).
U.S. Rep. Liz Cheney of Wyoming was the lone Republican named by Pelosi. Cheyney was one of 10 Republicans who voted to impeach former Pres. Donald Trump. Thompson will chair the committee.
Republican Minority Leader Kevin McCarthy of California can name five members to the 13 member-committee but it is not clear he will do so.
"January 6th was one of the darkest days in our nation's history, with five people killed, 140 members of law enforcement physically harmed and countless more seriously traumatized," Pelosi wrote in a news release. "It is clear that January 6th was not simply an attack on a building, but an attack on our very democracy: an attack on the peaceful transfer of power. It is imperative that we find the truth of that day and ensure that such an assault on our Capitol and Democracy cannot ever again happen."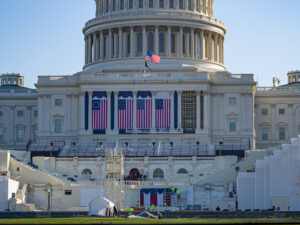 She originally tried to create a bipartisan, independent commission but that was not supported by  U.S. Sen. Mitch McConnell (R-KY).
"It had been our hope to establish a bipartisan, independent National Commission, but there is no prospect for that Commission at this time," Pelosi said. "Yesterday, the House established the Select Committee to Investigate the January 6th Attack on the U.S. Capitol. Today, I am proud to name Members who will patriotically honor our oath and our responsibility to the American people: to seek the truth."
.@SpeakerPelosi announces her appointees to the select committee to investigate the Jan. 6 attack on the Capitol.

Photos for @thehill pic.twitter.com/r9cIvgbhjd

— Julia Nikhinson (@julianikhinson) July 1, 2021
Statement from @RepLizCheney on January 6th Committee. pic.twitter.com/BkaaBnVqHi

— CSPAN (@cspan) July 1, 2021