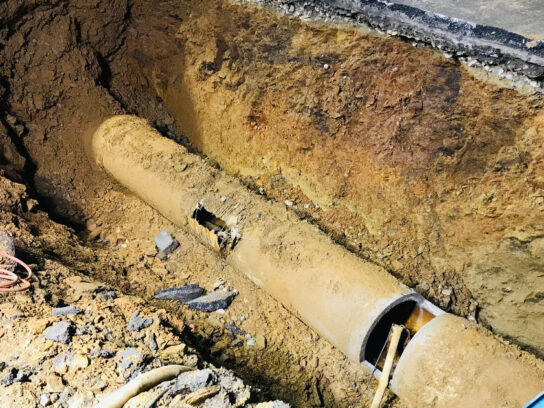 UPDATED Aug. 31 at 12:25 p.m.
While conducting repairs, WSSC found additional sections of the pipe that needed replacing. The utility now estimates that water will not be restored until this evening.
__________________________________
Water is expected to be flowing again "about noon" following two WSSC water main breaks on Clopper Road in Gaithersburg and Germantown, according to WSSC Water spokesperson Lyn Riggins.
Both breaks occurred along the same 24-inch water main. The first ruptured Tuesday at 6 p.m. and the second break followed at about 10:30 p.m., Riggins said. The two breaks are about a half-mile apart.
As a result, Northwest High School closed at 10 a.m. Wednesday. Bus service and bagged lunches were provided for the students.
The breaks were at 12400 and 11501 Clopper Road. While repairs continue, that section of Clopper Road remains closed to traffic.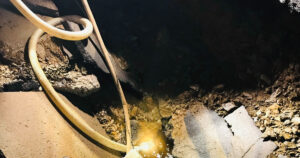 Riggins said the reason for the breaks is not known. The age of the pipe and the condition of the soil are among some of the factors that cause water main breaks.
There are about 1,800 water main breaks each year in the WSSC coverage area. WSSC only conducts studies on the major breaks.
When the water returns, some customers may have brownish, discolored water. Riggins said those customers should let their cold water run for about five minutes. The discoloration is due to sediments getting stirred up, she said.
Clopper Rd Update: after the water was shut down, still a lot of water to pump from the break site… it's going down now and then repairs begin. pic.twitter.com/0PSvmeiRSm

— WSSC Water (@WSSCWaterNews) August 31, 2022
Water Station Now Open:
United Church of Christ of Seneca Valley – 13421 Clopper Rd. pic.twitter.com/iV0igqW0De

— WSSC Water (@WSSCWaterNews) August 31, 2022
‼️Attention Northwest Families, due to a water main break in the area, we are dismissing early at 10:00 am. Bus service will be provided for students who need it and bagged lunches will also be provided.‼️

— Scott E Smith (@NorthwestJags) August 31, 2022