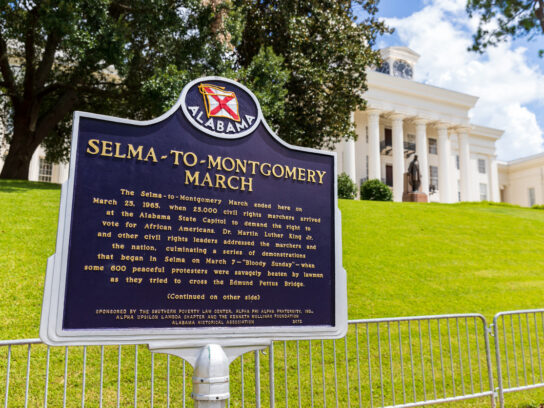 Register now for the annual Maryland Civil Rights Educational Freedom Experience bus tour.
The nine-day tour, hosted by the Montgomery County Office of Human Rights, retraces the steps of Civil Rights leaders like Martin Luther King, Jr., Rosa Parks, Medgar Evers, the Little Rock Nine and many others.
This year's bus tour is scheduled from Friday, April 29 through Saturday, May 7.
The bus leaves from Rockville and travels to Greensboro, N.C.; Atlanta, Ga.; Birmingham, Montgomery and Selma, Ala.; Memphis and Clinton, Tenn.; Little Rock, Ark. and Jackson, Miss. The Montgomery Bus Boycott, voters rights, Little Rock Nine and other significant events during the Civil Rights Movement will be explored.
Stops on the tour include the Civil Rights Center and Museum, the National Center for Civil and Human Rights, the Lorraine Motel, the Legacy Museum, Central High School, the home of Medgar Evers and Dexter Avenue Baptist Church, and more.
Special guests Joan Mulholland and Willie King join the tour to provide personal accounts of their experiences during the civil rights movement. Mulholland is a 1960's Freedom Rider and King transcribed Martin Luther King's "Letter from a Birmingham Jail."
If interested, full payment is due by April 19.
Click here to learn more about registration, the itinerary and the cost of the tour.