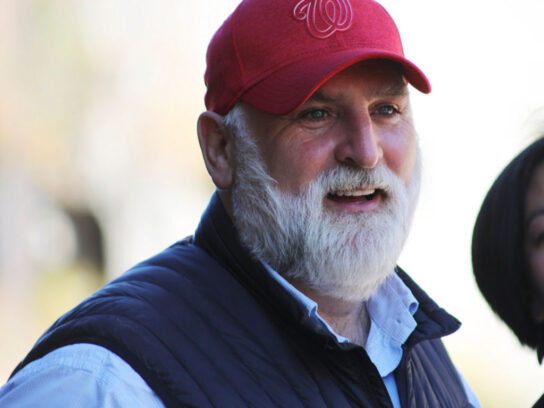 Desde el segundo día de la invasión rusa a Ucrania, el humanitario y Chef José Andrés ha estado en el terreno alimentando a la gente de Ucrania a través de su organización sin fines de lucro World Central Kitchen (WCK).
La organización y sus socios sirvieron 3,5 millones de comidas, distribuyeron 2,000 toneladas de alimentos en Ucrania y actualmente entregan 250,000 comidas diarias, según José Andrés.
A message from Lviv! Thanks to you, @WCKitchen teams with our #ChefsForUkraine partners have served 3.5 million meals, distributed 2,000 tons of food across Ukraine & are now delivering 250,000 meals every day! And we will keep standing with the Ukrainian people! 🇺🇦 Love you all! pic.twitter.com/N3EvCZcQFk

— José Andrés (@chefjoseandres) March 25, 2022
WCK comenzó a servir comidas calientes y nutritivas en un cruce fronterizo peatonal abierto las 24 horas en el sur de Polonia. Desde entonces, la organización se ha expandido a ocho cruces fronterizos en Ucrania. WCK también ha unido fuerzas con restaurantes locales para preparar comidas en las siguientes ciudades ucranianas: Odessa, Lviv y Kyiv, según WCK.
Market Plaza en Kyiv es uno de los mayores socios de WCK para alimentar a la gente de Ucrania en tiempos de incertidumbre. "Cocinan más de 10 mil comidas por día en sus 6 restaurantes, trabajando juntos como una gran fábrica. Empezaron desde el segundo día de guerra y siguen siendo luchadores de la comida", escribió el chef en un tuit.
We've visited at @WCKitchen one of our biggest partners, Market Plaza in Kyiv. They cook over 10K meals per day in their 6 restaurants, working together as a one big factory. They started from the second day of war and continue to be food fighters! #ChefsForUkraine #foodfighters pic.twitter.com/3BoVSCBU9D

— José Andrés (@chefjoseandres) March 30, 2022
En la estación de tren de Kiev, WCK sirve más de siete mil comidas diarias. Muchas familias buscan refugio durante la noche en la estación que ahora sirve como búnker para evitar bombas, dijo José Andrés.
Reporting from Kyiv train station where @WCKitchen serves over 7,000 meals daily! Ukrainian Railways is doing an amazing job managing the station…making sure families have what they need as they arrive to Kyiv, or leave on trains west. We will keep ensuring all have a hot meal! pic.twitter.com/yJ70Rhn6Hz

— José Andrés (@chefjoseandres) March 29, 2022
La organización también proporciona comidas a los ucranianos que han huido del país en la vecina Rumania, Moldavia, Polonia y Hungría. Todas las noches, el equipo de WCK en Polonia prepara y distribuye tazas de chocolate caliente y sopa a las familias que llegan.
"Hot chocolate on a night when it's going to be 8 below, is just a small touch of what we can give to make sure they know that they're seen and welcome."

Each night, the WCK team in Poland prepares fresh cups of hot cocoa for families arriving from Ukraine. ☕️🍫 #ChefsForUkraine pic.twitter.com/KBMdj8Gn9G

— World Central Kitchen (@WCKitchen) March 30, 2022