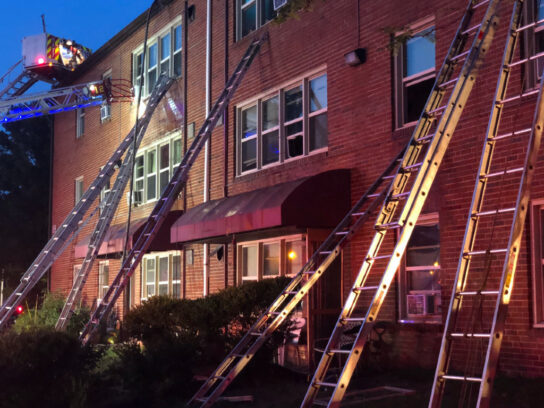 Over 30 residents have been displaced from their homes at the Carroll Apartments in Silver Spring after a building fire broke out Monday evening. No injuries have been reported.
Around 100 firefighters, from both Montgomery and Prince George's County, responded to the building fire at 8739 Carroll Avenue, near Piney Branch Road. According to tweets made by chief spokesperson for Montgomery County Fire and Rescue Service (MCFRS) Pete Piringer, the fire originated within the "void space" between an upper apartment unit and the building's roof.
Piringer also stated that the fire seems to have been caused by an electrical issue. "Investigators indicate fire patterns were consistent with an electrical issue and revealed some type of electrical problem or fault within the joist space over the bathroom," tweeted Piringer. The fire has been ruled accidental.
Piringer also stated that the total cost in damages caused by the fire is $750,000, which includes $500,000 in damages to the building and $250,000 to contents.
The Red Cross is also reportedly assisting residents impacted by the incident.
Update – (7/27) Carroll Apts, 30+ residents displaced, Red Cross assisting; Cause, accidental, electrical in nature; Damage Total $750K, incl $500K to bldg & $250K to contents; ~100 FFs responded @mcfrs @PGFDNews @MontgomeryCoMD pic.twitter.com/xon4vhmFXw

— Pete Piringer (@mcfrsPIO) July 28, 2020