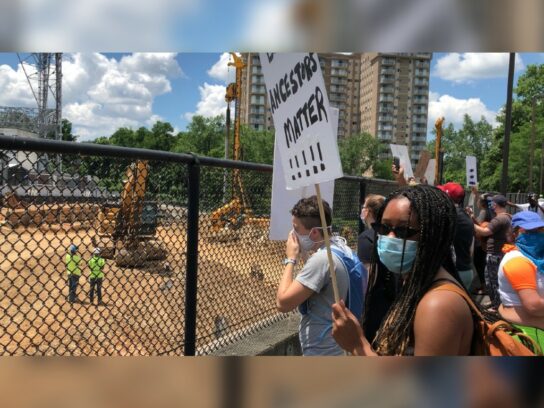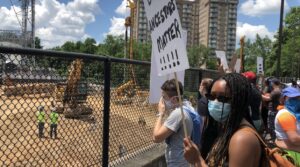 Protesters gathered off of River Road in Bethesda on Thursday to protest development on part of the River Road Moses Cemetery, an unmarked historic Black cemetery. 
According to Montgomery Preservation, a historic preservation organization in Montgomery County, the River Road Moses Cemetery existed between 1911 and 1958 in the area of 5401 Westbard Ave., which is by Thursday's protest area. The cemetery site has no visible markers since redevelopment during the 1950s-1960s and part of it is currently covered by the Westwood Tower apartment building's parking lot. 
Another part of the site is being excavated for self-storage units, which is what protesters came out to rally against. They want the project to be called off, and for the area to be memorialized.  
"We want Marc Elrich to make the phone call to stop the genocide here at Moses African Cemetery," said Bethesda African Cemetery Coalition President Marsha Coleman-Adebayo.
"It is indecent, it is dishonorable, it is racist to literally tear apart an ancient African cemetery."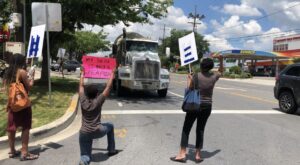 Burial site surveyors recommended in 2018 either a cemetery delineation study or the use of cadaver dogs to confirm that human remains are on the property, however neither of those things have been completed according to Tammy Hilburn, a cultural property crime specialist and archaeologist. 
"Now we see this going on before a clear delineation of a cemetery… that's systemic racism in archeology and historic preservation practices," she said. 
Montgomery Preservation evaluated that up to 200 people have been buried at the cemetery, including an African American Civil War veteran. The organization wrote that Moses Cemetery is "one of the few remaining signs of a once thriving African American community along River Road in Bethesda."
A 2017 report from the Housing Opportunities Commission of Montgomery County cites that death certificates from the State of Maryland confirm burial of two people at Moses Cemetery: Charles Henry Brown in 1912 and Cora Botts in 1935.
The report also found that multiple death notices published in newspapers including the Washington Post detail burials at Moses Cemetery.