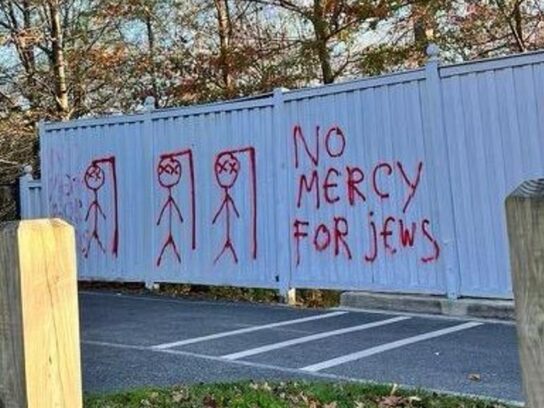 Following multiple incidents of antisemitic graffiti and flyers, two Jewish organizations joined together to offer a $5,000 reward for information leading to the arrest and indictment of those responsible.
The Jewish Community Relations Council of Greater Washington and the Jewish Federation of Greater Washington have put up $2,500 each to aid the Montgomery County Police in solving two recent hate bias vandalism crimes. The offer ends July 21.
The incidents include antisemitic graffiti spray painted on a Walt Whitman High School sign at Whittier Boulevard in Bethesda that first was noticed Dec. 17, 2022 and antisemitic graffiti on the Bethesda Trolley Trail on Nov. 14, 2022.
The graffiti at Walt Whitman read, "Jews Not Welcome," and the message at the Trolley Trail read, "No Mercy For Jews."
The police department is coordinating with the Anti-Defamation League to investigate these incidents. Police ask that anyone with information call 866-411-TIPS (8477) or click here to submit a tip anonymously.
Related Post