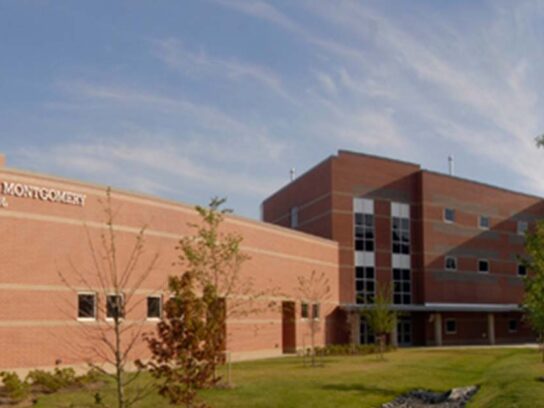 Simeon Mbuyu Mukuna, a Richard Montgomery High School student who was fatally shot Feb. 6, was remembered by his principal as "a wonderful student who had a positive impact on those around him, and he will be greatly missed."
Principal Damon Monteleone recalled "his magnetic smile, sense of humor, and love of soccer."
Mukuna, 18, of North Potomac, was shot and killed while visiting a friend in Columbia in Howard County. He was pronounced dead at the scene.
Shawndel Weems, 23, of Monarch Mills Way in Columbia, was charged with first and second degree murder, first and second degree assault, use of a firearm in a felony and reckless endangerment, according to Howard County Police. Weems is being held without bond and will have a preliminary hearing March 9.
Weems also was arrested on Jan. 25 and charged with driving without a license.
According to Howard County Police, they responded to the 7500 block of Monarch Mills Way at approximately 5 p.m. after receiving a call that the young man had been shot in the parking lot of an apartment complex. Police found Weems inside his nearby apartment, where he at first barricaded himself inside and refused to exit but then surrendered without incident, police said.
Principal Monteleone sent out a letter to the Richard Montgomery Community about the shooting. "It is with deep sadness that I inform you of the death of Simeon Mukuna, senior at RMHS. For those of you who knew Simeon, we ask that you remember his magnetic smile, sense of humor, and love of soccer as we celebrate his life. For those of you who did not know Simeon, we ask that you respect our sadness and support us with your understanding. He was a wonderful student who had a positive impact on those around him, and he will be greatly missed."
He added, ""It is very difficult for all of us to face the death of a young person," noting that a support team from Montgomery County Public Schools is available Monday for counseling and support.
Mukuna played soccer and football for the Richard Montgomery Rockets.
Brian Urioste, Mukuna's soccer coach, sent an email to MyMCM, noting, "The Richard Montgomery soccer family is in deep sorrow on the passing of one of our dearest members of our soccer family and more importantly our friend Simeon Mukuna. Throughout his time with our program, he has been an incredible inspiration. He taught people how to live and showed all of us what it means to be courageous—he did it all with a big smile on his face. He will be remembered for the love he had for his family, his dedication to his teammate and his excellence as a big brother. Our prayers and heartfelt condolences are with his family and all who knew and loved him."
Jon Freda, Richard Montgomery's athletic director, tweeted "Dang," adding how difficult it was to lose two Richard Montgomery students within "a matter of weeks." Besides Mukuna, Kyree Prather died unexpectedly Dec. 17, 2020. "Both kids loved RM, had great relationships with staff and students and had an infectious positive energy," Freda tweeted.
Montgomery County Councilmembers Andrew Friedson and Gabe Albornez both tweeted the same two words, "absolutely devastating."
The tragic passing of one of our students, Simeon Mukuna (18), was confirmed last night by MCPS. We are stunned by this horrible news. I am coordinating with @mcps to ascertain the facts and will address the community soon. Our prayers go out to his family.

— Damon Monteleone (@Listening2Lead) February 7, 2021
Losing Kyree Prather and Simeon Mukuna in a matter of weeks is a tough way to start 2021. Both kids loved RM, had great relationships with staff and students and had infectious positive energy. Thoughts & Prayers 🙏🏼 out to his family. Dang..

— Jon Freda (@RMRocketsAD) February 7, 2021
kyree
Students, see your Canvas messages for I formation about virtual crisis counseling and support available all day today and tomorrow (zoom cut purposely for public display) pic.twitter.com/Q93wO7iESG

— Damon Monteleone (@Listening2Lead) February 8, 2021
This is absolutely devastating. My profound condolences goes to the family, and loved ones of Simeon Mukuna, along with the Richard Montgomery HS community. May his young and vibrant spirit live within all of us. https://t.co/alwqohHdTj

— Councilmember Gabe Albornoz (@albornoz_gabe) February 8, 2021
Absolutely devastating.💔

My deepest condolences to everyone who knew and loved Simeon Mukuna. Thinking of his family, friends, and the entire Richard Montgomery community.

May his memory be a blessing. https://t.co/Od8UDKk2xR

— Councilmember Andrew Friedson (@Andrew_Friedson) February 7, 2021