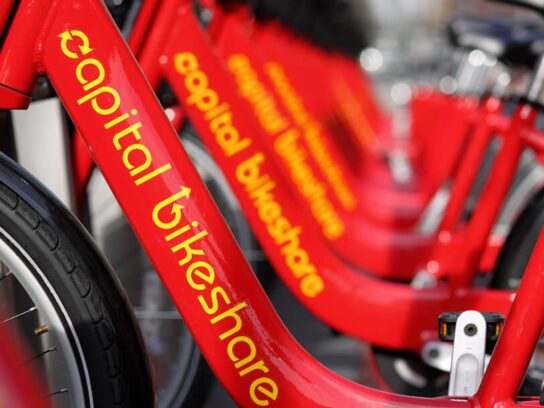 Montgomery County residents can use the promotional codes in the apps of popular ride and bikeshare services like Lyft, Capital Bikeshare and Bird Scooters to receive a discount on their Election Day transportation.
The discount code "VOTE22" offers 50% off for one Capital Bikeshare ride or two free Bird Scooter rides to the polls throughout the day on Tuesday. The codes can amount to up to $10 in discounts.
Lime Scooters is also offering the discount code "LIMETOTHEPOLLS2022", which riders can redeem for two free 30-minute rides on Tuesday.
If residents opt to drive, the "VOTE22" code will also provide a discount of up to 50% on Lyft rides.
Each promotional code runs for the whole day Tuesday, but polling locations in Montgomery County close at 8 p.m. Residents can see where their nearest polling place is at this link.
#HaveYouHeard @BirdRide will be providing its 'Roll to the Polls' discount to @MontgomeryCoMD residents.

▶️Use code VOTE2022 for2️⃣🆓rides on Election Day, November 8, 2022. @777Vote #montgomerycountymd #silverspringmd #wheatonmd #rockvillemd #vote pic.twitter.com/kpn54I1o6O

— MCDOT (@MCDOTNow) November 7, 2022
✅ICYMI✅
Take a discounted Capital Bikeshare🚲ride to the polls🗳️. Use code 'VOTE22' in the @bikeshare app for 50% off up to $10 in ride credits.👉Add the code to your account before Nov. 8 and it will auto-apply on Election Day. #CaBi @777Vote #vote #voting pic.twitter.com/vUnD9WBTQ8

— MCDOT (@MCDOTNow) November 8, 2022
🛴Lime To The Polls🛴
Ride to and from the polls for🆓with promo code👉 LIMETOTHEPOLLS2022

The promocode can be redeemed for 2🆓30 minute rides in the U.S.

Details👉https://t.co/bHQLjEzSD9
The promotion expires November 8, 2022.#montgomerycountymd @777Vote @limebike #vote pic.twitter.com/34JcxnKV88

— MCDOT (@MCDOTNow) November 8, 2022