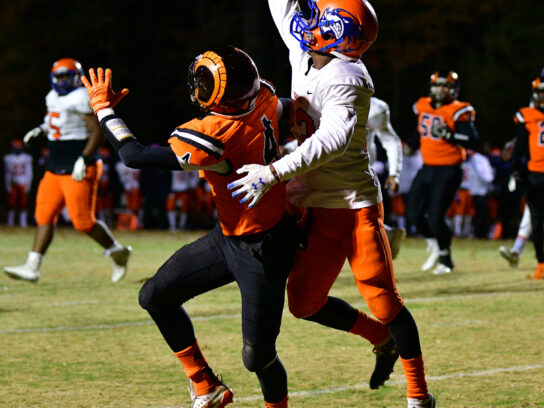 Rockville High School, Rockville Maryland November 8th 2019
Rockville High School principal Billie-Jean Bensen said, " Extra ready for a cold night and great game."  She was correct, it was a "very cold night and a great game" for the Rams.  Rockville alumna and coach of the Rams, Jason Lomax was about to enter the school's first-ever 3A MPSSAA playoff game.  Defeating Watkins Mill 28-9 made it the first-ever football playoff victory.
The game early on was one where the cold weather affected the play of both teams.  Watkins Mill's defense stopped Rockville on their first offensive series forcing them to punt.  The Wolverine punt receiver moved toward the punt reaching downward as it came to his hands and the cold hard ball slipped from his hands and the Rams recovered the fumble deep in Wolverine territory.  The first major break goes to Rockville.  The turnover resulted in a touchdown and after a failed two-point conversion those were the only points scored in the first quarter.
Watkins Mill took the lead briefly in the second quarter on a field goal and a touchdown making it 9-6.  The next offensive possession of Rockville ended the Wolverine brief after one play from scrimmage resulting in a touchdown and a successful two point conversion.  The score was now 14-9 which soon became 20-9 as the first half ended.  Rockville's defense held Watkins Mill scoreless the remainder of the game.
Good luck to the Rockville Rams as the travel to Linganore High School in Frederick county.  Kickoff is 7 p.m. for the 3A MPSSAA regional semifinal.
Pictures to follow by Daryl Schultz