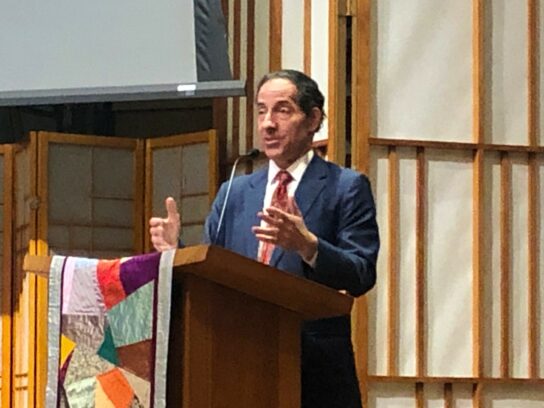 Three days before the House Intelligence Committee begins public impeachment hearings, U.S. Representative Jamie Raskin (D-Md.) gave a lecture Sunday night about the potential impeachment of President Trump that mixed American history, constitutional law and some partisan politics.
Raskin spoke to a packed house of 500 friendly faces at the Cedar Lane Unitarian Universalist Church in Bethesda about topics he knows very well — the Constitution and impeachment. The evening had the feel of a campaign rally although the 56-year-old politician is not running for a new office.
Raskin, a constitutional scholar, represents Maryland's 8th district covering Montgomery, Carroll and Frederick counties. He has become a familiar face on TV recently discussing the potential impeachment of the president.
In a July phone call, Trump allegedly threatened to withhold military aid to Ukraine unless its president, Volodymyr Zelensky, investigated one of his potential 2020 election opponent, Joe Biden, and his son Hunter.
Raskin called it, "the most impeachable thing any American president has ever done."
This was his fourth time speaking at the Bethesda church which made news in the summer when it provided sanctuary for undocumented immigrant Rosa Gutierrez Lopez from El Salvador. Gutierrez Lopez sat in the front row Sunday night and received rousing applause when Raskin referred to her indirectly. Addressing potential questions of separation of church and state, Cedar Lane's senior minister Abhi Janamanchi said, "Democracy is an act of faith."
Raskin dedicated the evening to the late Elijah Cummings, U.S. Representative for Maryland's 7th district for 23 years, a civil rights activist and a staunch opponent of Trump.
During the course of the evening, Raskin quoted Thomas Paine, Thomas Jefferson, Frederick Douglass and his father ("When everything looks hopeless, you're the hope") in a 45-minute talk followed by a question-and-answer period with the audience. He made the case that Trump has broken multiple laws and constitutional statutes while in office. "He (Trump) does whatever he wants," Raskin said.
Trump has violated both of the Constitution's emoluments clauses "taking money from 27 countries include Saudi Arabia, the United Arab Emirates, Turkey, Egypt and the Philippines," according to Raskin who detailed the millions of dollars that Trump's hotels, golf courses and other businesses have allegedly made while he's been in office. Raskin called Trump's hotel in DC, "the Washington Emolument".
Raskin told the crowd, "We are defending our democracy," adding later "it's the American people we're fighting for" and "we are going to take our country back."