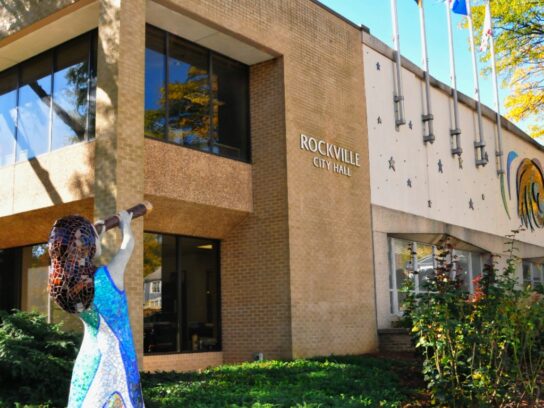 The City of Rockville delayed their plans to reopen City Hall on Jan. 3 due to the surge in COVID-19 cases fueled by the Omicron variant. City Hall has been closed since March 14, 2020, in an effort to protect the health of Rockville employees and the public, and prevent the spread of COVID-19.
During the Dec. 20 Mayor and Council meeting, it was decided to put the reopening plans on hold. The topic will be revisited during the next Mayor and Council meeting scheduled for Jan. 10.
"A vaccination against COVID-19 and a booster shot, as well as covering up with a face mask, are still the best defense against the virus," City Manager Rob DiSpirito said in a statement.
According to the Centers for Disease Control and Prevention, the omicron variant, which accounted for less than 1% of cases at the start of December, accounts for about three-quarters of new COVID cases in the U.S.
Even though City Hall has been closed, city government remains open with employees reporting on-site, in the field or virtually. The city's virtual services can be accessed through www.rockvillemd.gov.
Rockville employees are required to be vaccinated against COVID-19 and to have received booster shots, unless exempt for religious or medical reasons. Employees with approved exemptions are required to undergo mandatory weekly COVID-19 testing. The policy covers temporary, part- and full-time employees who work on-site and remotely.
The city is also pausing its recreational youth basketball program, and will continue to follow the advice and actions of the county's health department.
Other city facilities are open, including community centers, the F. Scott Fitzgerald Theatre, Glenview Mansion and Croydon Creek Nature Center at the Rockville Civic Center, the Rockville Senior Center, and the Rockville Swim and Fitness Center. Check the city's website at www.rockvillemd.gov for hours and availability.
Face coverings are mandatory for staff and visitors, aged 2 and older, to Rockville facilities, whatever their vaccination status. The City of Rockville will not ask visitors to share their vaccination status.
City Hall's reopening has been delayed. https://t.co/a7oBe7R2lN pic.twitter.com/Pn7js4aGNe

— City of Rockville (@Rockville411) December 21, 2021
Previous post: