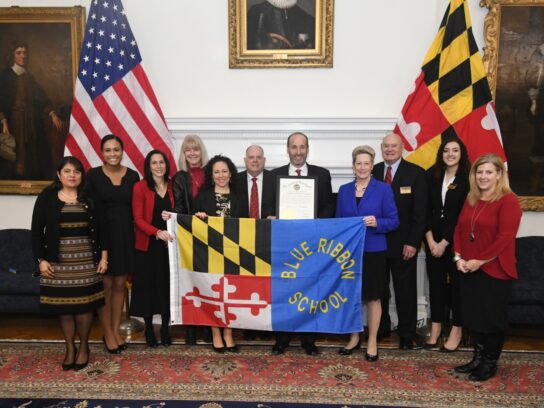 Lucy V. Barnsley  Elementary School in Rockville was named a Maryland Blue Ribbon School by Governor Larry Hogan on Monday. Barnsley is one of six Maryland public schools to be recognized this year.
The Blue Ribbon Schools program recognizes and honors schools that exhibit high performance and/or significant improvement in reading and mathematics achievement as measured by Maryland assessments. Reducing the achievement gap for disadvantaged students is also a criterion.
Principal Andrew Winter was in Annapolis when the Governor and State Superintendent of Schools Dr. Karen Salmon made the announcement. In a letter Winter  sent home to families, he thanked the "outstanding and dedicated staff for all they do on a daily basis to help our school be successful."
Barnsley was one of six 2019 Maryland Blue Ribbon Schools announced on Monday, Dec. 10. Other winners are Cash Valley Elementary School in Alleganey County, Jacksonville Elementary School in Baltimore County, Hampstead Elementary School in Carroll County, Mount View Middle School in Howard County, and Bayside Elementary School in Queen Anne's County.
Barnsley is the first school in the state of Maryland named after a woman, and has 746 kindergarten to grade 5 students. More than 40 percent of the students represent socioeconomically disadvantaged families, special needs students, or English language learners. The school offers a Deaf and Hard of Hearing sign language program, and is the only elementary school in Montgomery County with a Gifted and Talented Learning Disabled program. It also serves as a Center for Enriched Studies, bringing together students from several clusters for high level, fast-paced instruction. Barnsley has an award-winning Positive Behavioral Interventions and Supports (PBIS) program. The school last year raised more than $6,000 for the Leukemia and Lymphoma Society's Pennies for Patients initiative.
Each of the six schools will receive a Maryland Blue Ribbon Flag, a monetary prize, $1000 in office supplies, interactive technology equipment, and a school congratulations party. A dinner in Annapolis will be held in honor of the winning schools on March 2, 2020. On that date, each Blue Ribbon School will be honored by the Maryland House of Delegates and Senate.
As a state winner, Barnsley will now compete in the National Blue Ribbon Awards program. The National Blue Ribbon Schools will be announced in September 2020 by the U.S. Department of Education.